Google Trips
介绍:Exploring the world with all your travel info in one place
更新时间:2016-12-26 11:26:51
目标网站: 查看详情
guillaume cabane: Ouch Tripit !
Julio Montas: This is great, I'm always using my phone without a sim card so having multiple GPS location pins "SAVE" offline is a plus +.
applab: It's very buggy. Can't create a trip. Can't download a trip. Suggestion very poor. Really #google ?
Sanjay Kumar Negi: All i say its amazing.
Elizabeth Ho: I NEED THIS
Madhur Kalra: Check out Moftare Review of Google Trips - https://moftare.com/2016/10/goog...
JiEn: I used the beta version during my europe backpacking trip and it was a lifesaver. On the day before I travel, I download the city for offline usage and I know I am more or less prepared. It provides all the critical information (currency/ transport options/ emergency contact no.), and a good starting point to survey all the popular places - all in one app. Oh, and it automatically all my trip reservations for accommodation and transport.
Kazuya Nakamura: Kudos to Google! I am currently using TripCase, but I will give this a try!
Erwin James Will: I used this in beta, its pretty handy
Kateryna Zhylova: None for windows phone((
Stefan: Yet another launch without support for Google Apps users
Xin Wei: I've been using Tripit so far to manage all my travel plans (and TripAdvisor/Yelp to plan out what things to do). One of the best things I love about Tripit is that you can share your travel plans with your trip buddies or friends. This feature seem to be missing here :(
Halim Georges Madi: This is impeccable execution! I love how all the elements Google has been working on (Maps overlay, inbox pulling your trips, google now getting info about flights etc.) all come together so neatly :O
Everette Taylor: Dope. Would love to find the PM/s that worked on this product?
Ben Tossell: Is this an evolution of Destinations by Google ? Or at least has some crossover?
Ignacio Lago: The promo video, starring a goat, in a Mexican flavoured Barcelona. I'll need a beer to digest it, or two. Local advice: Don't expect that in any way if you ever come here. The cake is a lie.
Otar Chekurishvili: I'm looking for a decent TripIt replacement for a long time. I tried every trip organizer app available on the market.

Judging from screenshots I can say that Google Trips looks promising, but the thing is I can't create a trip. It's buggy and useless for me right now... and how much I didn't want to write their support and put some time in resolving this case Google is known for its ugly support.
Eric Willis: Good article about it here: https://techcrunch.com/2016/09/1...
James Morgan: I love the presentation but I'm trying to create a trip in Amsterdam and it's killing me. I select 5 locations by favouriting them. I then view those 5 on a map and click the magic wand to create my itinerary and it keeps adding 2 places that I don't want to visit and removing 2 I want to visit. I don't think these locations are unavailable and the locations it gives me are rubbish/not suitable, one is a massive detour to the town square which is massively off course, then a long journey back to visit a final destination which is actually located really close to the others attractions. I can't see why it's doing any of these things.
Ossama Bounnite: The offline mode looks interesting !!!
Gary Fung: This looks like a godsend for landing at any new city. The auto itinerary feature drawing the most optimal (walking) route through multiple POIs is exactly the app I was working on
Ryan Hoover: This might be competitive to the recently announced Airbnb Live There down the road (no pun intended).
Micha Mazaheri: I have been TripAdvisor offline cities for this stuff, but it's wasn't very polished and felt heavy to use. And definitely didn't have much personalized infos (flights, hotel bookings, friends recommendations). It seems like a nice replacement for it.
Raphaël Améaume: Wow, it just took a few seconds after login to retrieve all my past trips, even if some were made three years ago. Impressive ( but a little bit scary too ? 😳 )
Stephan Castro: I love the idea of this app. But I wish I could "Share" the trip with my family. Currently it seems you can only take trips by yourself :)
Daniel Wyss: @raphaelameaume Gmails and Google knows everything!
[deleted user]: @raphaelameaume this isn't work for me. I just come back from Sri Lanka. And its make me sad :-(
Weilah delasMontañas: Hi @stephancastro ! Take a minute to check out our application. Faros lets you share the saved places with your friends and family! https://www.producthunt.com/post...
Weilah delasMontañas: @trekforever Using Faros and its boards you could share them with anyone you choose. You can even decide if they can edit the content or just view it. Take a minute to check it out https://www.producthunt.com/post...
Weilah delasMontañas: Hi @otarch.. you could maybe give Faros a try. We think that the process of creating a trip is very simple and clear: https://www.producthunt.com/post...
Misha Plotkine: @bentossell yes it is
adam mashaal: @bjorn_bakker @rrhoover Same thought - just used Inbox during a recent trip and was super handy. Wonder if Google decided to spin the Trips tab of Inbox into a dedicated product based on seeing some success with it.
Ben Tossell: @everette yeah its Stefan Frank but cant find on Twitter :(
Björn Bakker: @rrhoover just wait till they get your Google Flights in there. Companies like Skyscanner could be properly hurt. Inbox by gmail is also powerful to see your trips with their cards. It made me stop using Tripit in an instant.
Dan Waldschmidt: @vvant So frustrating... Same thing happened with Android apps for Chromebook (on my Pixel 2). It's getting rather tiresome to be the ugly step child in this family...
Adam Lazarus: @arunagrahri @vvant "Google Inbox" is available for Google Apps! I use it.

https://support.google.com/a/ans...
Arun Agrahri: @vvant If you meant "Google Inbox", yes this should work. Also, I think "Google Inbox" is not available for Google Apps account as well.
Stefan: @arunagrahri I wouldn't complain if that was the case - however my Inbox Trips are enabled, using them all the time: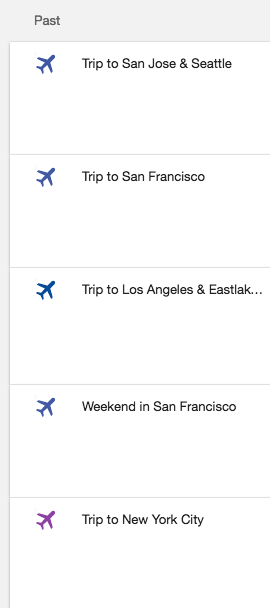 Arun Agrahri: @vvant Google doesn't process/read any travel receipts or email for Google Apps accounts. The use case and business model is completely different (pay per user account), compared to Gmail, Inbox which is Ad based and it's free.
Tobi Rohmann: @rrhoover thought the same thing!
Stefan: @furqan_asghar85 It's not platform related - I have a Google Apps for Work account and the trips are not importing. Can't create new trips either. Learned to expect that from Google lately, I wish they would mention it in the blog post at least
Furqan Asghar: @vvant it's actually available for Android too. Just checked on their blog. Got me confused too initially :D
The following information is related to the job
Kamcord: We're changing how people share the internet--- Product Manager ---San Francisco
InVision: Prototyping & collaboration for design teams--- Product Analyst ---New York City
Skurt: Tap a button, get a car delivered to your door--- Software Engineer ---Los Angeles
Honor: Home care built for our parents, and you--- Software Engineer ---San Francisco
eero: Blanket your home in fast, reliable WiFi--- Product Manager - User Engagement---San Francisco
Anchor: Record bite-sized podcasts that anyone can join ⚓--- Lead Front End Engineer ---New York City
Itinerary planner for independent travelers

Tastemaker-driven concierge to plan your perfect trip

Explore cities and book flights with Google

Explore city guides curated by experts.

An app that's your local guide and intimate travel journal.

Search and book travel in less than 1 minute

Discover the most fascinating cities in the world

Share and capture travel moments anywhere and anytime