Stripe Atlas
介绍:A new way to start an internet business anywhere
更新时间:2016-12-24 11:39:40
目标网站: 查看详情
Steven Rueter: Everything about Stripe simply makes it, in my opinion, the absolute best tech startup, both in product and in business model, in a very, very long time. I don't think Unicorn quite fully describes it; it's more or less becoming a foundational utility for business online. Stripe Atlas really helps to solidify this. It's going to level the playing field for bright minds and talent all around the world to take part in the US's unparalleled climate for innovation and entrepreneurship.
Ricard Panadès Nadal: This looks awsome, but i have a question: I'm from Spain (terrible place for entrepreneurs, lot of taxes only for accept payments, make invoices etc), if I use Stripe Atlas, is this tax evasion? Thanks!
Gary Gaspar: Can't wait for it to become widely available
Chris Calmeyn: While large corporations are using tax inversions to lower their tax bills, Atlas is making it easier for small international businesses to incorporate and do business in the US. Interesting world!
Bala S.: With Stripe Atlas, entrepreneurs can easily incorporate a U.S. company, set up a U.S. bank account, and start accepting payments with Stripe.
Niv Dror: The level of design detail in the Stripe Atlas website is insane. Amazing work @billlabus
@bdc @patrickc 👏👏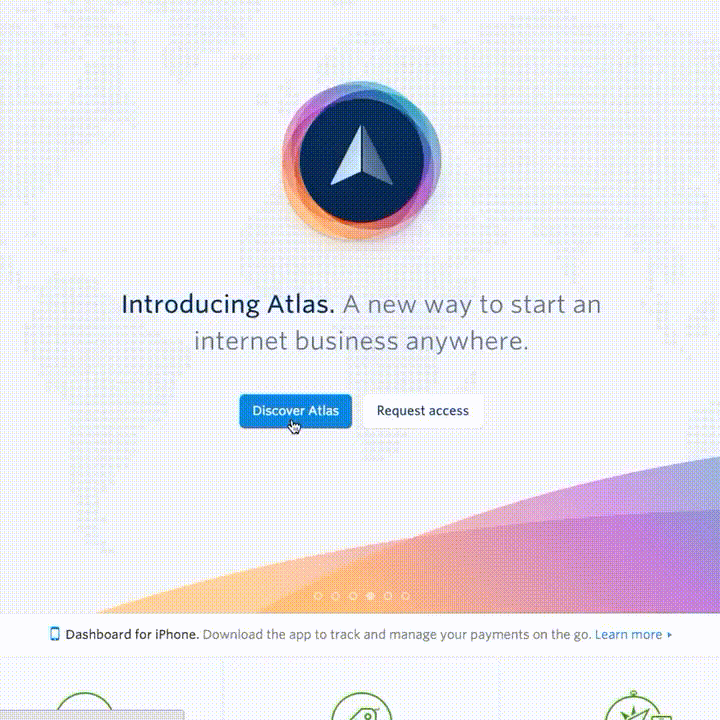 Irina Zayats: Whoa, this is incredibly good news. I couldn't find any info as to whether a valid US visa is required for non residents to apply?
Edward Dowling: In 2012, when Stripe was only available on the US and had no equivalent in Australia, at App.io we wanted to accept online payments. We either had to pay a $25,000 deposit and wait 3 months to open a merchant account with a bank, or pay $500 to incorporate a US company and spend $1500 to visit the US and open a bank account. Guess what option we chose? Love that s
Stripe is doing this. Truly awesome.
Ryan Heinemeyer: Amazing!! Wish I had this about 2 months ago.
joshua bradley: This is an incredible service to offer-well thought out end-to-end, giving entrepreneurs a real head start on getting their ducks in a row
Ross Rojek: Always a pain point on new business entities. And most of the "we set up a corporation for you" people were pretty shady. I'm interested in how this'll fit in the US "know your customer" rules though for folks out of the country.

I'll be interested in seeing where this goes. Other corporate forms, other countries.
Bear Silber: Would you consider the same for LLCs?
Harsha Halvi: Damn I was waiting for stripe to launch in India and you guys made a way to use all the benefits that US startups use. Thanks :)
Mohamed Moubarak: Now the internet is complete. I still have to try it, but if it does what it says, thank you Stripe <3
Erich: This is a huge step and makes the founding for people outside the US so smooth and affordable. Awesome
Kumar Thangudu: This is hugely exciting. They're helping abstract the boring stuff. (Accounting, incorporation)

@blaurenceclark and I cofounded @linktexting and @growamp by using Stripe first. We bootstrapped to pay the incorporation fees and routed the initial cash into his bank account and tracked everything accordingly.

We bootstrapped from zero to x using Stripe first. Our major issue with silicon valley bank is that they pass plain text passwords in the forgot password user-flow.

We're huge fans of stripe and their integrations though. Check them out here: https://stripe.com/docs/integrat...
If you're using Stripe and doing SAAS, I highly recommend @profitwell.

We used @clerky to incorporate. While useful, I always feel I'm being stolen from in the C-corp incorporation timeline. Also 83B form filings are the worst, anachronistic. By US law most government organizations can accept digital forms, but many of them haven't adapted to this law. Not a lawyer, just pointing out the anachronism.
Matthieu Varagnat: Between Estonia e-residency and Stripe Atlas, I think the makers are inventing a borderless world
Sam Doshi: So many businesses need this type of deployment/turnkey/onboarding to the startup scene... this is a huge enablement tool and I'm happy to see it here. We're about to see an even bigger explosion of startups with resources like this under one seamless roof. Thanks for putting this together.
Augusto Marietti: I still remember when I had to fly from Europe to SF in 2009 just to open the bank account. Before the 9/11 you could do it online. Two planes, 22 hours traveling to SFO. Landed, got into BART, went straight to BoA on Market St. with my passport. Put in $80. I felt like I had done something magical the moment my biz account was opened. I guess I had to justify all the effort.
Demian Brener: This is great! We at BitCorps are trying to solve a similar problem with a different approach.
Will Jamieson: This is amazing love the feel of it
Yusuf Parak: This is absolutely incredible! As someone from South Africa, the IP rights here aren't conducive to startups and every founder here would love to have a setup that Stripe Atlas offers. Previously we would have to go through a whole legal process to incorporate elsewhere costing vasts amounts of money! Well done @krithix @sch @patrickc and thank you for solving such a massive pain!
David Iwanow: hmmm this could be fairly damn big for startups... I love the idea of creating a company can now take just hours and anyone in the world can easily do it
Jon Sutherland: This is incredible. Take my upvote you magnificent wizards
Dmitry Tsepelev: This is super awesome! We was just planning our visitor to the US for the incorporation and Atlas arrived just in time! Looking forward to try it out
Siva Kumar: @h_halvi I am also from India. If you utilized Stripe Atlas and incorporate a U.S. Delaware company, do you need to pay taxes in both US and India?
Thomas K. Running: @ricardpanades While using Stripe Atlas to incorporate in the US isn't tax evasion, the company would still need to report to the tax authorities in Spain (and the US) and pay tax there. Failing to do so would be tax evasion.

While I understand this can be very useful to process payments, you need to understand the Pandora's box of international tax complexities you are opening by running a US incorporated entity from Spain (or any other country). After all, Stripe is already available in Spain, so why bother. You will not pay less tax (you might even pay more), but instead increase your cost of tax compliance by an order of magnitude. Not to mention all the extra work.

I'm not saying Atlas isn't suitable for anyone. For high-growth, VC-funded startups, having a US presence might make sense (investors like investing in Delaware C-corps). The same for someone from a third world country lacking access to decent payment processing, etc. But in the latter case it might be better to look at other jurisdictions than the US, for example Estonia.

But most small to decent-sized businesses in reasonably developed countries should think at least twice (i.e. talk it over with a qualified international tax professional in your home country) before signing up for Atlas or otherwise incorporating in the US. If you think your own tax code is bad/complex/insane, you haven't seen the US one.
Ross Currie: @leanux_bala This is pretty awesome. I run my company from Australia and as modern as our banking system is, there are some real challenges in being an AU company targeting US customers and suppliers:
- With this, I will no longer need to convert $US sales into $AU for my bank account before I put it back into $US to pay my suppliers
- With this, I won't get charged the extra 1.25% when a purchase is made using a non-Australian card (ie, 90% of my customers) - (Edit: Looks like I'll still be paying 2.9% + 30c per transaction. This is odd, as with Stripe AU it's 1.75% + 30c for domestic cards)
- With this, I could potentially run my next Kickstarter in USD rather than AUD (which is a real problem with our currency disparity)

These three things make a huge difference to my business. I've looked at registering a US entity before, but there's no turnkey way to do it.. until now.
Jasonhwang: @vietnguyen Sorry to bother you again, Viet but just have some questions about reporting taxes, issuing shares and stuff... Can you help me out if you have some time? If willing, please email me at jason@likealike.co Thanks man!
Viet Nguyen: @jason_likealike Congrats and good luck to you!
Jasonhwang: @vietnguyen Thanks for your words! Let's see who it plays out and I'll also keep you posted! Good luck with your awesome startup👍
Viet Nguyen: @jason_likealike To me, it took 2 weeks for the company to appear in the states record, and 2 more weeks for Tax ID. So far, it's very good, I got the support I needed from them. It's quite inspiring to see Stripe building world class products and helping entrepreneurs at the same time like this.
Jasonhwang: @vietnguyen I'm about to get in the program - got an application link leading to the next step. How do you find the program so far?
Jasonhwang: @vietnguyen I guess I gotta do my best to get a referral then... thanks for your help, Viet! 👊 lemme know if there's anything i can help down the road if any... :)
Viet Nguyen: @jason_likealike I waited for months. I would not care about the incorporation date and release the product when I like. Having a referral is the best way, otherwise u would have to wait like me :(
Jasonhwang: @vietnguyen so are you in the program right now? i've applied but haven't got a response yet... our release date will be on the first week of september so i'd better get hurry... is there any fater way you think we'll get accepted other than getting a referral from their partners?
Viet Nguyen: @jason_likealike The day woke up and I received the email that my startup got accepted, I jumped from my bed and screamed yes 3 times. It was very good. As a non US founder, I was waiting 4 years for this full package solution. Stripe Atlas does it the right way.
Mohammad Musharrof: @jason_likealike Same here :) let me know if you get the invitation :)
Jasonhwang: @sch Hey Mike, I've applied to atlas but hasn't got any response yet... Do you guys put a hold on accepting more applicants for now?
Michael Schade: @steveraffner We're starting with incorporating in the US, and are working on expanding Atlas globally.
Nate Legler: @sch @davidiwanow this is bigger than the Taco Bell Quesalupa (
)
Charles Jo: @leanux_bala very interesting for global startups at SSG.
Borja Rojano: @ricardpanades I am from Spain too. No it is not.
Patrick Campbell: Thanks for the shoutout @datarade. We don't quite have the ProfitWell twitter handle, so find us at @priceintel.

Love what Stripe is doing here, continuing to be revolutionary in the world.
Ahmad Awais: @leanux_bala I cannot tell you how stocked I am, after reading about Stripe Atlas. It just might be the solution to every f***ing payment problem my team have been dealing with for past five years (being in a 3rd world country).

We are huge fans of Stripe! It's integration the user experience and overall simplicity.
Pulkit Agrawal: @leanux_bala this is awesome - i know so many companies in the UK that wonder whether incorporating in the US will help them raise capital so this seems like this will help spur the startup industry in other places and help even out all the venture density from the US to other parts of the world! great going Stripe!
Ross Blankenship: @leanux_bala Tons of potential here for @stripe's growth and impact on entrepreneurs + startups worldwide.

We're looking forward to adding Atlas to our portfolio companies... and our own products too.

Keep up the great work @BestOfLuk and Stripe growth team!

Ross D. Blankenship
Angel Investor & Builder | http://angelkings.com
Jp Valery: @rossdcurrie Good to know. But if I recall correctly the experience of friends launching a KS before it was available in France, they only needed a company registered in the US. We'll see !
Ross Currie: @jpvalery From what I can see you still need a US social security number and a (personal) US address to run a Kickstarter in USD
Michael Schade: @ricardpanades Nope, you'll still need to pay taxes locally wherever applicable. I don't have much advice on the specifics for Spain, but we partnered with PwC who can assist from a U.S. perspective and introduce you to the cross-border tax considerations when setting up with Atlas. This should help make sure you stay compliant with local laws.
Matthieu Varagnat: @antonsekatski Also, thanks for the pointer to the great medium article
Matthieu Varagnat: @antonsekatski I guess it's not perfect for now, but I think it starts to draw an interesting trend
Anton Sekatski: @mvaragnat It's not that simple with Estonia e-Residency because to be able to open a bank account you need to prove your connection to Estonia. Here is an article about this: https://medium.com/nomad-gate/es...

To summarize this silliness, they guarantee you can open a company but not guarantee that you can open a bank account for that company.
Kamil: @leanux_bala Game changer
Ross Currie: @sch I have a fantastic use case for Stripe Atlas, but from this comment, and some of the marketing material, my understanding is that countries like Australia, where we already have access to Stripe, perhaps isn't the main focus of the pilot programme?
Ross Currie: @edowling Stripe has always been great about servicing Australia. I remember when they came out here and only let you take payments in AUD, but they were driving the USD payments so hard - I'd sent an early e-mail inquiring about being able to take payments in USD and actually got a personal follow-up from someone when they released it into beta. Every interaction I've had with them has been great, even when the answer is "no, you can't do that".

I've just recently (last week) changed my payment gateway completely over from Paypal to Stripe. Really excited about the new opportunities that Stripe Atlas might bring me. Our banks here, while they do a great job, just don't have sensible products that cater to modern online businesses.
Ross Currie: @jpvalery Yeah I'm pretty determined that the next KS I run will be as a US entity... do you still need a US resident as part of your team or is company sufficient?
Irina Zayats: @sch Thanks! Too good to be true.
Michael Schade: @samuelpolat We're looking into it!
Michael Schade: @otymartin We don't have an ETA just yet on that one, but it's something we're looking into! I'm sure we'll learn a lot from the beta, and that'll help inform what we do next.
Michael Schade: @cmconsing Thanks for the interest, Carl! Atlas is best for entrepreneurs in emerging markets, rather than new companies already here in the US.
Ricard Panadès Nadal: @sch Thanks!
Christien: @leanux_bala this is strong!
Michael Schade: @izayats Nope! https://stripe.com/atlas/faq#Do-...
Zach Herbert: @bearsilber It says in FAQs they may do LLCs in the future
Jp Valery: Especially if you want to start a Kickstarter project IMHO.
Michael Schade: @davidiwanow Yes! We're pretty excited to see what people build.
The following information is related to the job
PrepScholar: SAT/ACT Prep that's customized to you--- Product Manager ---Boston
Kamcord: We're changing how people share the internet--- Product Manager ---San Francisco
SeatGeek: Upload your tickets and get paid--- Software Engineer ---New York City
Anchor: Record bite-sized podcasts that anyone can join ⚓--- Lead Front End Engineer ---New York City
Product Hunt: The place to discover your next favorite thing--- In-house Designer---San Francisco
Quora: Share and grow the world's knowledge--- Product Designer ---Mountain View, CA
Check your eligibility for the O-1 visa for $149

Visualizing who immigrated to the U.S. between 1820 and 2013

Everything you need to start a subscription business.