Slack Beta
介绍:A faster and nicer Slack built on Electron
更新时间:2016-12-26 11:14:57
目标网站: 查看详情
Niv Dror: Great article on @TheNextWeb about Slack's Beta. http://thenextweb.com/apps/2016/...

Key Section:

Their current macOS app is built using MacGap, which is a wrapper for web apps — so technically, it was just a port of the web version of the Slack website in a desktop window. However, the beta is rebuilt from the ground up using Electron, speeding things up significantly."

It mostly still looks like the same old Slack, you'll immediately notice these key improvements:
• Insanely fast start-up and team switching
• The team bar now changes according to your color scheme
• A fancy new top without that ugly desktop frame
• The app in general is way more speedy
David Feng: We're evaluating Electron as well so seeing Slack beta on there is interesting. We're huge fans of slack and our customers love our slack integration. Native mac app or not, this super fast super slick version should be epic. @slackhq @thenextweb
Guilherme Rambo: It's better than the previous app, but I still think Slack deserves a fully native Mac app. This Electron app is 175MB once installed and uses A LOT of memory.
Thomas TomHawk Burningham: Slack threaded messaging needs to happen, soon
Matt Gardner: Can we please get a small chat popup view? Like the Hangouts extension (which ironically Google is changing to be more slack-like next month) where a small individual channel would be a chat overlayed over my work and can be collapsed.
Praval Singh: Is there a way I can get rid of the Menu Bar icon?
Nick Hallam: I dig it
Diogo Afonso: @slackhq it's definitely snappier, but I'm missing one thing: how can I remove the teams side bar? I'm only on one team, I don't need that cluttering my UI...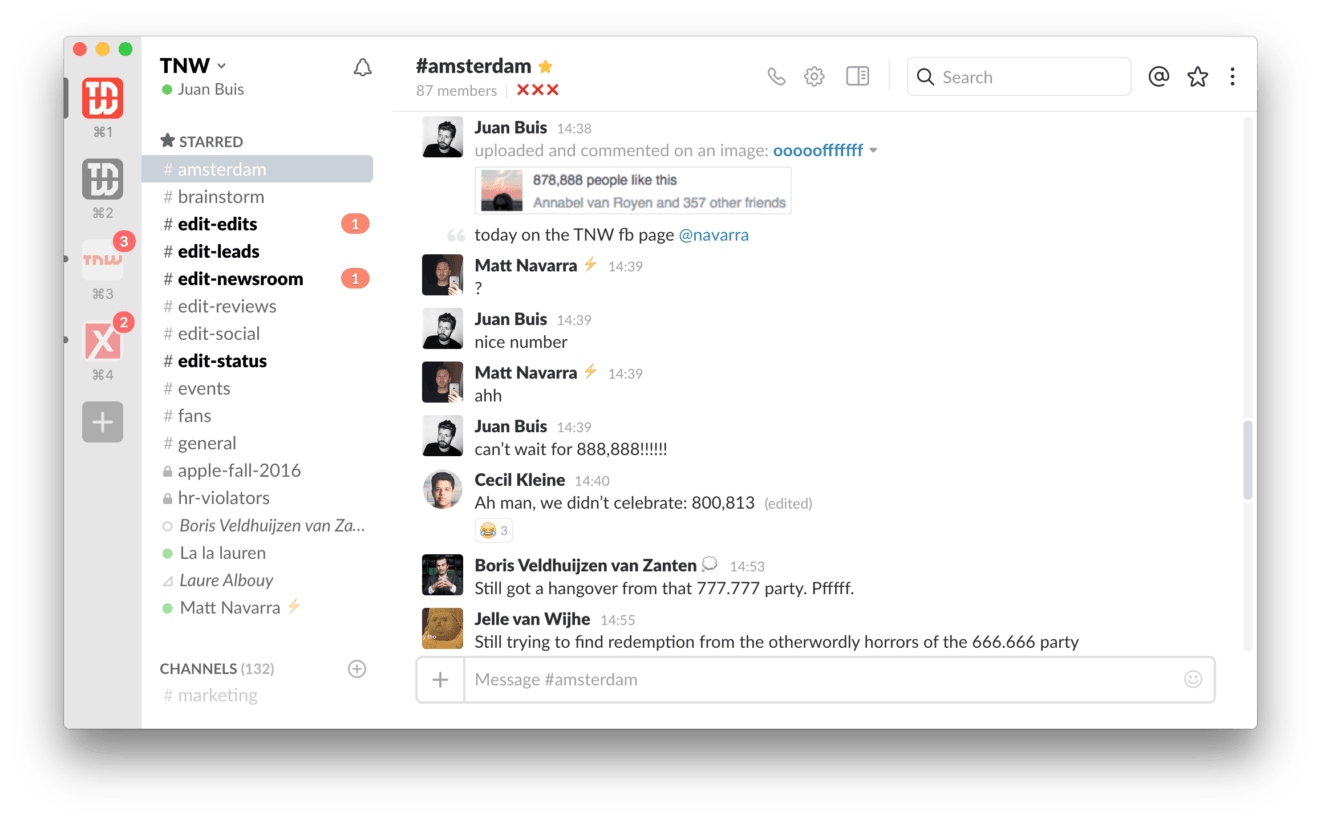 Patrick Breitenbach: I like the "All Unreads". Feels about the same speed as the "old". Isn't Electron just a newer wrapper around the same web app? So far, I miss the draggable bar since I re-position my Slack window a lot.
JoshTodd: Yes!!! So much faster.
Alain Ekambi: Wondering why Electron. NW.js is way better imho.
Marcus Davenport: Is this the version with comments? Catching up with things I've missed is a pain I can't wait for comments so I can only read the threads that are important to me!
Ben Tossell: Slick Beta update from Slack - am using it already...

The best feature (other than the speed 💨)



(Announced herebut available in other builds too)

Other than the obvious loves for @slackhq... I also loved their video from last year


Pietz Prove: this is great and all, but isn't it also a little sad that it took a multi billion dollar this long to move away from a simple wrapper application?
Jesse Campbell: This is great. The Slack startup time always kind of irked me. It's blazing fast now. I also really like how the desktop window chrome has been integrated into the UI. Nice job there.

First response from our team: add a "Hide Menubar Icon" option in the preferences.
Ouriel Ohayon: incredibly better. best addition to this version a top bar menu icon that will 1. allow to switch team 2. change colour when updates! (which was critical for me if you have the mac app bar which auto hides) https://cl.ly/1f0W2k0T0K2R
Kerem: Now, it looks like a mail inbox
sielay: So better performance and feature set of Electron won with smaller bundle size of MacGap
Cal Evans: YUP, much faster on my MbA. I may actually like this version. :)
Josh Harcus ♖: FINALLY! I'm so glad this is here.
Brian Kidwell: Oh yeah this is nice! So much snappier 👌
Marcus Davenport: I really love the old ui theme I hope we have the option to keep it as far as the colors etc...
Ayrton De Craene: This is so awesome, I wish it had a different app icon for the beta though, similar to how chrome has a different icon for its canary builds
Félipé Upperlife: Finally !!! A better slack !
Evan Kimbrell: Speed was never something I even thought of with Slack. I never had an issue with it...
Sebastian Limbach: @_inside Totally agree with you. Electron is a great way to provide a "native" Mac App fast, but I by myself enjoy the fully native Apps way more! Better performance and memory management. Also it just looks nicer in the macOS ecosystem.
Tom Redman: @_inside Agreed here - this is the biggest pain point for me after switching from HipChat (which is super _duper_ speedy switching between rooms/channels).
Jason McMinn: @_inside All that VC money and that can't make a native desktop app? ;-(
Derek Nuzum: @_inside 100% agreed. I understand the ease of building electron apps for cross-platform, but they're not efficient at all. And, with a ton of apps going the electron route, it really starts to bog a system down. :/
Rotem Yakir: @nivo0o0 @thenextweb
Derek Shanahan: @_inside This. Slack hogs memory, a constant annoyance.
Paul Betts: @florentdestrema Linux users have had our Electron app for over a year now fam :)
Hussain : @thomas_tomhawk_burningham i feel like the share message feature is a sort of threaded reply; very primitive but does help give context
Guido Vilariño: @dafonso @bentossell you could also just shift + Esc. Been working for some time.
Ian Mikutel: @raphc Windows beta is live. After clicking "Join the Beta" I got a desktop notification that I'd been added to the beta group. Then clicking update via my current install of Slack on Windows prompted an update to the 2.2.0 beta build.
Yufan Lou: @dafonso @slackhq Maybe join more teams? I always join teams with what I use.
Peter Cooper: @cm0nt0y4 @nivo0o0 @thenextweb Fun bit of trivia for people as well, MacGap was originally developed by Alex MacCaw who now does Clearbit :-)
Florent Destremau: Oh my gosh so sorry I just downloaded it, was using the standard web version since the beginning, now I understand the difference!
Rob Fulton: @tyson_mutrux I didn't have problems either!
DongHyeok Kim: @_inside +100 - MacGap => Electron feels like 2x-10x faster depending on the use-cases, but it still feels like a web app imo
David Carpe: @_inside but how will they build a native app without more funding? they simply need another 100m...
Edward Kay: @_inside /feedback https://www.producthunt.com/tech...
Ben Tossell: @dafonso that example is actually from the Slack blog....not my Slack ;)

I am using the new Beta - aware the 'All Unread' is on them but its a pretty good feature that I wanted to shoutout!

:)
Chris Smith: @marcus_davenport Agreed! (Although it says on thenextweb: "The team bar now changes according to your color scheme," so maybe the dreary grey can be changed.
Diogo Afonso: @thesultanofsex @slackhq did it before my post. Just adding power to numbers by posting it on PH as well...
Paul Betts: @aimadnet Join our beta program on Windows - versions of the beta app are now directly comparable to the Windows version and in the near future, we'll probably release all three versions at once (or very close to each other)
Christian Montoya: @nivo0o0 @thenextweb For the record, Electron is a web app wrapper just like MacGap. MacGap is just a dead project whereas Electron has a lively community and ongoing updates.
Diogo Afonso: @bentossell @slackhq The "All unreads" feature is available in all builds, wether it is beta or stable.
Juan Buis: @nivo0o0 ✌️
Joshua Pinter: @_inside *cough* React Native
Txai Wieser: @_inside Agreed, PLEASE make a real native app!
JB: @kevinchandra http://electron.atom.io
The Sultan of Sex: @dafonso @slackhq you can't at the moment, but submit some /feedback saying you want it. Power in numbers!
Vytas Butkevicius: @nivo0o0 @thenextweb Massive improvements! my Slack app is now on steroids (and no, I didn't just spend 2 minutes switching between teams)
Diogo Afonso: @bentossell I also believe you're not using the new beta, still using the stable version, because the new beta has a different design. The app frame is totally different...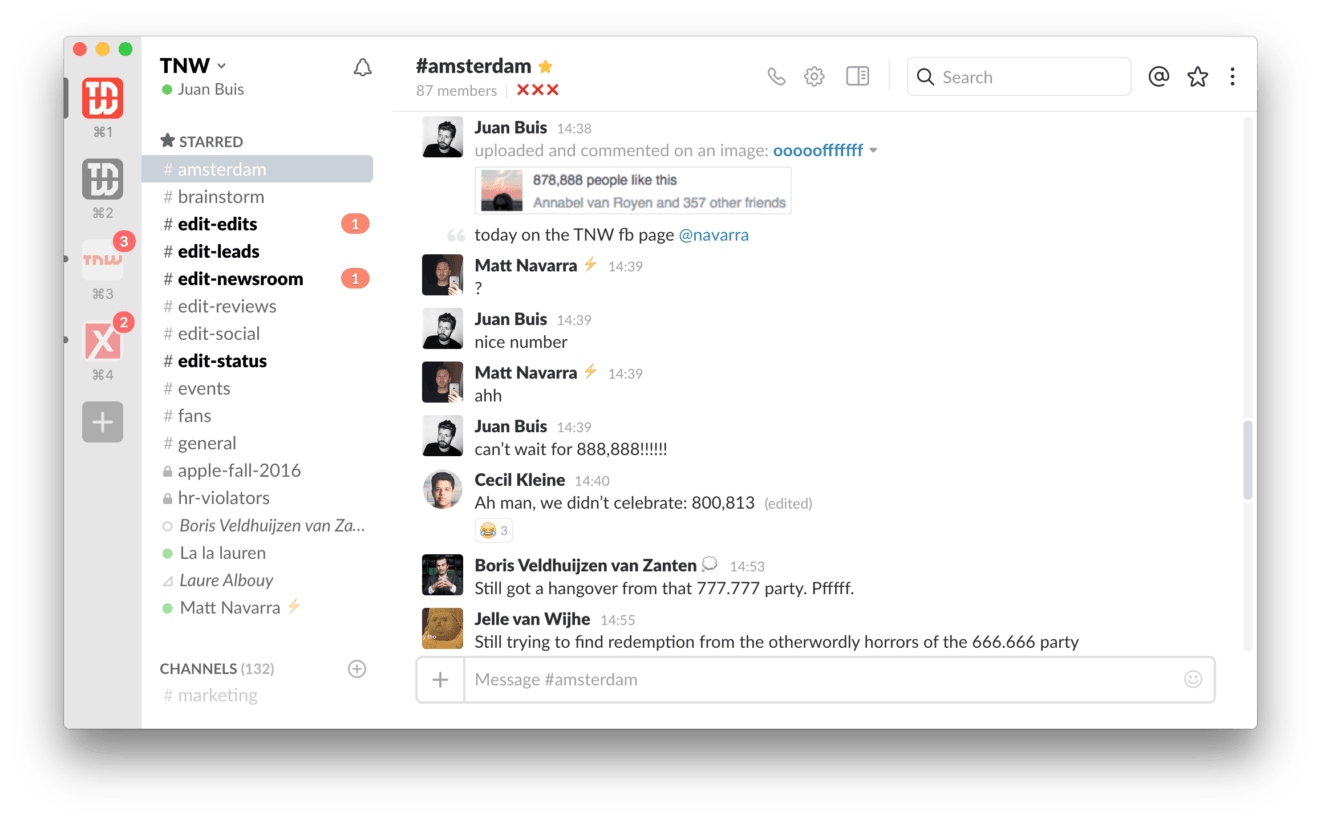 Raphaël Chabaud: @ianmikutel Thanks for the tip ! I didn't get the notification, but I after clicking "join the beta" I went to the menu : help > check for updates and it updated to the beta :)
The following information is related to the job
Juicero: Healthy living made easy & accessible through technology--- Lead Frontend Developer---San Francisco
Quora: Share and grow the world's knowledge--- Product Designer ---Mountain View, CA
Babbel: A more personalized social network--- Senior Product Manager ---Berlin
Honor: Home care built for our parents, and you--- Software Engineer ---San Francisco
PrepScholar: SAT/ACT Prep that's customized to you--- Product Manager ---Boston
Buffer: Simple, powerful social media--- VP of Product---🌎
Be less busy. Real-time messaging, archiving & search.

Connect everyone in your company and turn ideas into action

Productive conversations start here

Open source slack alternative

Shared workspace for the web. (Open-source Slack competitor)

File sharing with chat & storage

Catch up all the unread across your Slack teams in one place

Master Slack & supercharge your productivity with daily tips