Netflix Offline
介绍:Watch Netflix anytime without an internet connection
更新时间:2016-12-26 14:07:53
目标网站: 查看详情
Gary Paitre: The best feature for parents on a plane.
Ted Blosser: so awesome!!
Shaun Trennery: That's the sound of the door slamming on other VOD providers. Only defence for launching a VOD service will be insanity.
Matt Gardner: Awesome. We're one step closer to my dream of watching Netflix in VR on Daydream during plane trips. ETA for Netflix VR is end of year so I'm hoping for January usage!
Karl Schmidt: Very cool! I wish they kept their API though, I found it useful to implement custom 'My List' sorting and other features..
Carl: 🎉 FINALLY‼️
Jake Mor: woah .... I wonder what Amazons got cookin
Raindropcatcher: Well, now they've finally got my attention.
But why only on mobile devices? Why not on the laptop? :/
Dan Pitrowiski: Game. Changing.
Tim Verdouw: Yes! This is an awesome feature!
Kyle Wendling: You guys are so product focused it doesn't seem like you understand the hold-up on this feature for the past 10 years had nothing to do with technical limitations.
Ankit Aggarwal: Is this an app only feature?
Olivier El Mekki: Great news! Watching movies in the train is finally possible :) (and great timing, just before christmas)

That being said, I'm a bit disappointed to read in the "To download titles from Netflix on your mobile device, you will need" section that I need an internet connection to download movies :trollface:
Shaun Dunne: Hows that for a slice of fried gold
Scott Wyden Kivowitz: It's about time!
Neeraj Thakur: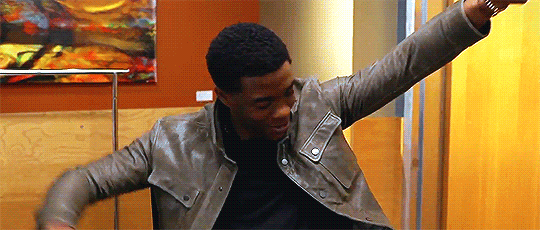 Mimi Vuong: Been waiting for this.
sri: Will this defeat the purpose of streaming? In Asia, this will impact netflix membership. There will be one account for offline viewing and then share it among friends and family. I think this could impact Netflix abroad.
David Roizenman: This means that PlayOn is basically dead now.
Ankur Sharma: Looks like function of getting into the markets like India where they are already facing stiff competition with local players & YouTube and soon going to have a stiffer one with Amazon Prime Videos.
Lucas: thank you netflix!
Stanley Idesis: 👴: back in my day you had to be online to stream your Netflix!
👶: What's Netflix, grandpa?
Niv Dror: Netflix Board Meeting Minutes:

2006: Should we launch video streaming? 🤔
2007: We successfully launched video streaming ✅
2008: Should we enable offline viewing? 🤔
2009: We should enable offline viewing ❌
2010: We should enable offline viewing... ❌
2011: Our customers want offline viewing ❌
2012: Our customers really want offline viewing ❌
2013: Offline viewing? ❌
2014: We should enable offline viewing. ❌
2015: Thoughts on offline viewing? ❌
2016: *Adds offline viewing* ✅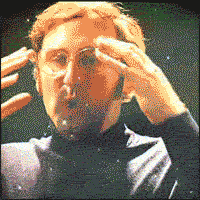 Ryan Hoover: Probably the most useful update to Netflix since they introduced online streaming.

Tangent: What shows/movies are people watching? I'm enjoy Black Mirror (related), Tallulah with Ellen Page is great, and Demetri Martin's standup special is hilarious. Oh, and I recently re-watched Heavyweights. It holds up. 😊
Jack Dweck: Brb, currently downloading all of Black Mirror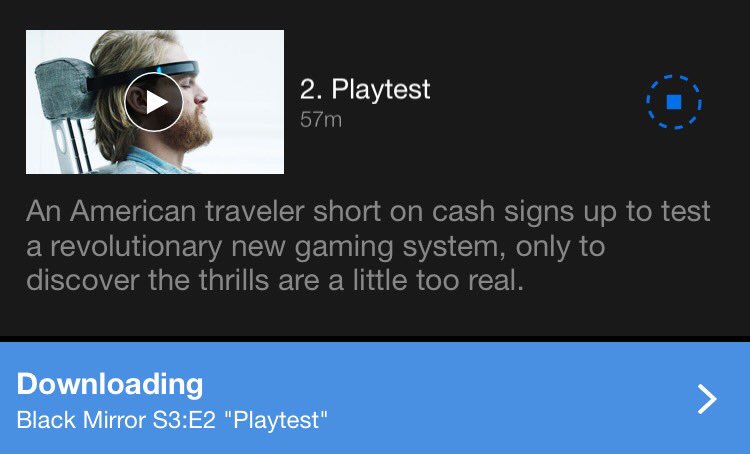 Nipun Gupta: @rrhoover I have been watching Pacific Heat (Australian version of James Bond - hilarious) and re-watching Archer / Office. Madame Secretary is a pretty cool show if you are into national security etc.
Florin Muresan: @rrhoover Narcos, How To Get Away With Murder, Sherlock (best show ever, the British show!!), House of Cards, Stranger Things, The Get Down Brothers, Luke Cage, Daredevil, Ascension

Netflix is a subscription that really makes sense for me
Florin Muresan: @zackbloom @nivo0o0 I agree. It's also what I think. People don't realize it, but licenses and rights are the reason why MOST great things are locked to the world.
Jason Salas: @frassmith Hmm...maybe local storage while respecting the DRM'ed content?
Fraser Smith: @jasonsalas I don't use any of those. :-) I'd settle for something in the browser TBH
Jason Salas: @thatmattgardner That's an interesting theory! At the expense of awkwardness (which is always subjective), at least with VR you get privacy. You could watch a horror film on a flight without worrying about offending others. Now, what I'm wondering is possible compounded motion sickness due to HMD latency plus the fact that you're in a moving pressurized vehicle.
Matt Gardner: @jasonsalas If you're staying within your space and not playing very intensive games (you don't want to be throwing limbs everywhere) I'm not sure if there would be any problems besides looking odd. Honestly, I wouldn't be surprised if when you got onto economy in 5 years time if everyone wouldn't be handed a headset so they can ignore the fact that they're crammed like sardines. You can watch your own movie selection on a theatre-sized screen, explore attractions you can visit after landing, or heck if they fix in-flight wifi you could still work/have meetings.

Plus with the headset the airlines could probably justify another row of seats because people wouldn't notice the 1in less room per seat ;)
Jason Salas: @kylemediaradar I'm looking forward to the inevitable rollout of the next major item on Netflix's roadmap: livestreaming - securing licenses for sports events and awards shows, and self-producing boutique news content. (Which, like offline access, they swore they'd never do.)
Jason Salas: @thatmattgardner That's something I've never thought about: how ethical, moral, safe, or just courteous is it to use VR gear while on a commercial flight?
Jason Salas: @frassmith I'm sure we'll see some variant of support for Microsoft hardware - Metro app for Windows 10 and some client for Xbox. We hope!
Jason Salas: @delitzer I wasn't surprised to see the Disney-owned content (e.g., Marvel, Star Wars, ESPN, Pixar) not be available for download at the onset, even with Netflix's new deal with them. ESPN's 30 for 30 films can't be downloaded, either.
Nat Eliason: @rrhoover Bojack Horseman if you want some surprisingly insightful and deep comedy.
Jamie McIntyre: @ninjinka @rrhoover Just saw this after my post. Just finished episode 6. Brilliant show.
Jamie McIntyre: @rrhoover Black Mirror Season 3 was fantastic. Now Hooked on 3%. Watch it Portugese with English subtitles!
Mitchell Fox: @garypaitre agreed, road trips too!
Jason Hart: @rrhoover +1 for Black Mirror. Nacros is pretty amazing as well.
Mac Aficionados: @andreyyanovskiy I think it's because Amazon Prime Video is on it's way outside of the USA 😉
Fraser Smith: @nivo0o0 2017: Thoughts on offline viewing for the desktop? ❌
Jason Salas: @zackbloom Interesting...
Justin White: @joshuapinter @wraldpyk @andreyyanovskiy @nivo0o0 lol.. You actually had to explain that? We're doomed.
Frad Lee: @andreyyanovskiy @nivo0o0 iPhone 7 Plus 1080p 😂
Mark Fleming: @jakemor They have offline video support on Android via Amazon Underground as a start.
Desmond: @shimmb For me the red herrings made the show, especially in S1-S2 when it was discovered who really killed the daughter.
I've seen both The Fall and River, exceptional productions. 👍🙌
Thomas Burgess: @rrhoover I just binged the new Brazilian Netflix Original "3%" (I watched it subbed in English with the Portuguese dub) and it was GREAT.
Zack Bloom: @nivo0o0 Having worked at Hulu, I'm convinced it was 100% a licensing and rights issue. Copyrights can be infinitely subdivided, meaning Netflix may have had 'streaming' rights, but not 'offline caching' rights. Yes, even on content they produced.
Kate: @rrhoover classic comedy forever... 30 Rock, Parks & Rec, the Office, Bob's Burgers, Scrubs all on repeat. Plot / character driven crime shows make appearances too, though (Bones, and NUMB3RS, Psych + Chuck while those last three were on Netflix)
sri: @ausonio If the downloaded image can be played only using netflix app, then i agree.
Danny Richman: @rrhoover how about Series Hunt?
Greg 'X' Willis: @vamsikvaranasi @sisedi "movies we can experience...?" Westworld anyone? :D
Justin Malik: @rrhoover Black Mirror, Stranger Things, The Walking Dead, Bloodline
Steph Garrett: @think_andreah she just neeeeever gives in and I kinda love it!!
Mark Spivey: @sridhar_kondoji doubt it, since this is app only they could just tie it to authorised devices
Andrea Hernández: @ongarrett @rrhoover The Crown!
Sarah Evans: @rrhoover the crown!!!!!
Simon Bromberg: @desmonddantzler @epic__miller The Killing started off really well, but then it dragged on endlessly and jerked viewers around with red herrings. I recommend giving up on it before it's too late. Swap it for The Fall or River.

Plus I know it's set in Seattle, but it doesn't rain there THAT much
Aftab Alam: @scawtent web version may not be in near sight I guess, as preventing sharing of offline videos will be a tough nut to crack and not as secure as mobile devices
Ankit Aggarwal: @wraldpyk Thanks for the info! I would prefer a Mac app still :)
Stanley Idesis: @vamsikvaranasi they do have an incredible advantage though unlike tech, the beverage world is hard to disrupt at this point. I wonder if it's possible 🤔
Vamsi Varanasi: @sisedi Unlikely. Even today, no one asks "What's Coca Cola grandpa?"
Simon Bromberg: @rrhoover The Fall, rewatching various Star Trek series and Pokemon for the nostalgia

I highly recommend "River"
Andrey Yanovskiy: @iduuck @nivo0o0 oh, so it's for iOS/Android... then it's much simpler — download at home over WiFi — watch on a commute
Gene Fan: @nivo0o0 First up, the complete (Netflix collection of) Pedro Almodovar movies:)
Aftab Alam: @desmonddantzler First two seasons were really top-notch and unbeatable till True Detective didn't happen
Emily Schuman: @rrhoover watch The Imposter! pretty crazy doc. Shameless is great. Just watched Temple Grandin (actually found via LeanFlix - https://www.producthunt.com/post...) which was really good too.
Jason Frishman: @rrhoover Michael Che's recent standup was amazing. Highly recommend.
Vamsi Varanasi: @sisedi With blockbuster vs netflix, netflix filled a need of the consumer to get movies without hassle and in a convenient medium. I don't see a replacement for streaming, like ever. Unless we get movies that we can "experience", I mean actually live them, and somehow Netflix misses that train, I don't see it being disrupted so easily.

Coke always filled our need for fattening sugar water :D We'll always crave fattening sugar water, but Coke sells us excuses for drinking it more than the water itself.
Steph Garrett: @callmewilsar I was shocked by how light they kept it regardless of the storyline. Laughed until I cried
Wilsar™: @ongarrett @rrhoover omg I love chewing Gun. Black Mirror is always a great choice. :)
Pietz Prove: @andreyyanovskiy @nivo0o0 i think your internet connection is slower than mine :)
Joshua Pinter: @wraldpyk @andreyyanovskiy @nivo0o0 Yeah, they require the same amount of total bandwidth but not the same amount of bandwidth per second. I think his point is that downloading 4K doesn't require you to have a sufficiently fast bandwidth, where as streaming it does.
Yinka: @rrhoover Been watching Fargo, it's great!
Desmond: @rrhoover Tales by Light, Untold History of the US, & The Bletchley Circle. The Killing is probably the best crime drama I've seen.
Khalil Benihoud: @alikafridi @rrhoover right
Niv Dror: @rrhoover The Crown is sooo good 👑 thankful for the random midnight @stevesi Twitter recommendation 💫
Vamsi Varanasi: @sisedi Ha ha, point taken. Netflix might go the way of Blockbuster... but if they play their cards right, there's not reason they won't stick around.
Stanley Idesis: @vamsikvaranasi after 10 years of business you're ready to say Netflix is a guaranteed 100 year brand? Ballsy ;D
Brian J King: @woutervanlent @rrhoover It's a shame it keeps getting bumped from airing. Looks like episode 8 will finally air tonight though!
Wouter van Lent: @rrhoover Designated Survivor is my latest discovery!
Alex Stoklas: @rrhoover Good to hear that you have time to watch :-) I just started with White Collar, is average
Eric Miller: @rrhoover The Killing, the 100, Sense8
Dominik Schmidt: @andreyyanovskiy @nivo0o0 Well, I don't think a lot of 4k videos will fit into an iDevice
Matthew Helbig: @rrhoover Joe Rogan's newest standup, The Fall and Black Mirror.
Rene Pot: @andreyyanovskiy @nivo0o0 pretty sure competition forced them. Streaming or downloading requires the same amount of bandwith
Rene Pot: @ank2302 it appears so. That until they launch a desktop application. With the rumours of offline support came also a Windows application. We'll have to wait for now
Parker Woodward: @rrhoover The Crown, Shameless
Sven van der Zee: @kschmidtdev Miss the API :(
Ali Afridi: @rrhoover Black Mirror, Narcos, and I've started to watch through the old Top Gear. Good stuff.
Andrey Yanovskiy: @nivo0o0 I think it's because it's hard to stream 4K video :)
Thomas Dunn: @rrhoover Just finished season 1 of Hannibal. Dark dark stuff and very addictive
Steph Garrett: @rrhoover Chewing Gum, Black Mirror, The Crown is lit, Chef's Table, and Lovesick
The following information is related to the job
PrepScholar: SAT/ACT Prep that's customized to you--- Product Manager ---Boston
Anchor: Record bite-sized podcasts that anyone can join ⚓--- Lead Front End Engineer ---New York City
InVision: Prototyping & collaboration for design teams--- Senior Graphics Engineer---New York City
Skurt: Tap a button, get a car delivered to your door--- Software Engineer ---Los Angeles
Quora: Share and grow the world's knowledge--- Product Designer ---Mountain View, CA
SeatGeek: Upload your tickets and get paid--- Software Engineer ---New York City
Synchronize Netflix playback with friends remotely

A directory of all the "secret" Netflix categories

Chrome Extension that let's you pick Netflix's secret genres