Duet Display
介绍:Use your iPad as a second display for your Mac
更新时间:2016-12-23 21:20:00
目标网站: 查看详情
Brett deMarrais: @eric3000 I've used it and it by far the smoothest way to use your iPad as a monitor. Really well done.
Amanda Chiu: You had me at 'second display'. I've been waiting for something like this! It will be added to my must get list. Nice work guys
Brock: Bought it this morning and used it all day running it as a 3rd monitor. It has worked flawlessly! Couldn't be more excited to finally be able to travel with a 2nd monitor.. I must have sold like 4 or 5 people on it as well, they've all purchased it.
Jonathon Triest: Really nicely done. One thing, video says zero lag... I'm getting some lag (although way less than other products out there.) Curious about other peoples experiences.
Brennon Mobley: This deserves 5 stars... I was hesitant to try it out because I do not have an ipad... but i use it with my iphone 5s and it works great. I would definitely recommend
Ben Munson: Love. I just needed a quick way to hop my cursor between screens and also hunted CatchMouse. http://www.producthunt.com/posts...
Stowe Boyd: Crashed my Mac when I tried on my iPhone 6+
Mike Bracco: So after two days of working great it's now going to be a staple in my setup. Going to snag a HoverBar this weekend at the Apple Store for the optimal use of this :)

https://www.twelvesouth.com/prod...
Eric Willis: I need this.
PierreOlivier Carles: I don't know where I was to miss it! You made my day, @Rahul. I have an iPad 2 which was pretty useless so far and I don't like big screen to far from me. Mixing my iPad and my MBP is just the PERFECT combination. And having an additional screen for $15 (OK, plus an iPad :-)) is just awesome. Thanks!!
LJ MTX: I'm sooooo happy with this! It works seamlessly between my mid-2014 Macbook Pro and my iPad 2 Air. Thank you!
Beatrice Leung: This promo video is incredible! Can't wait to try it.
Ryan Hoover: How has this not already existed?


Time to pull out my dusty iPad.
Rahul Dewan: EDIT
===========
Thanks everyone for supporting duet and Product Hunt for building such an amazing community! I am honored to say we were nominated for Mac app of the year for Product Hunt! Check it out here!
https://www.producthunt.com/tech...

Duet has launched!

Edit: Theme song for the app:

Eric Metelka: Wondering how this performs IRL and what lag is like. Anybody using?
Derek Minter: Just paid and if this is real I'll cry tears of joy
Mike Bracco: Also Product Hunters: A perfect companion to this app to use your iPad's full screen real estate easily/efficiently is BetterSnapTool. It's one of the first apps I always install on a new machine and it's perfect for an app like this.

https://itunes.apple.com/us/app/...
Mike Bracco: Ok..um..Amazing. I bought it instantly and already loving it.

I've used a couple of these before but performance was always an issue. Not with this one. It feels like native/regular external display would. I'm also on beta OS X 10.10.2 (14C81f) and no issues at all.
Matt Kremer: Just bought it, definitely fast and it is awesome to touch to focus. I'll spend some more time with it and see how it goes :D
Tori Bunte: LOVE that this works with all iPads. I have an old iPad 2 that I rarely use for much aside from reading and traveling.

My only concern stems from the Macworld review: "When set to display in retina mode at 60fps, the CPU usage on my 13-inch Retina MacBook Pro with attached retina iPad mini exceeds 120 percent." Can anyone who uses Duet speak to this? I have the same MBP as the reviewer.

Also, major workspace envy:

Chris Messina: $10 for an iOS app. Interesting. I wonder how many will buy?
Michael D Sorg: I've been that weird guy that has an iPad for an extended desktop at the coffee shot thanks to this.
Jason Dainter: This is so useful. I'l be keen to try it out and see what the lag is like, Ive seen a few attempts at this before but generally they've been quite slow/laggy.
Allan Zhang: Productivity... doubled! 🙌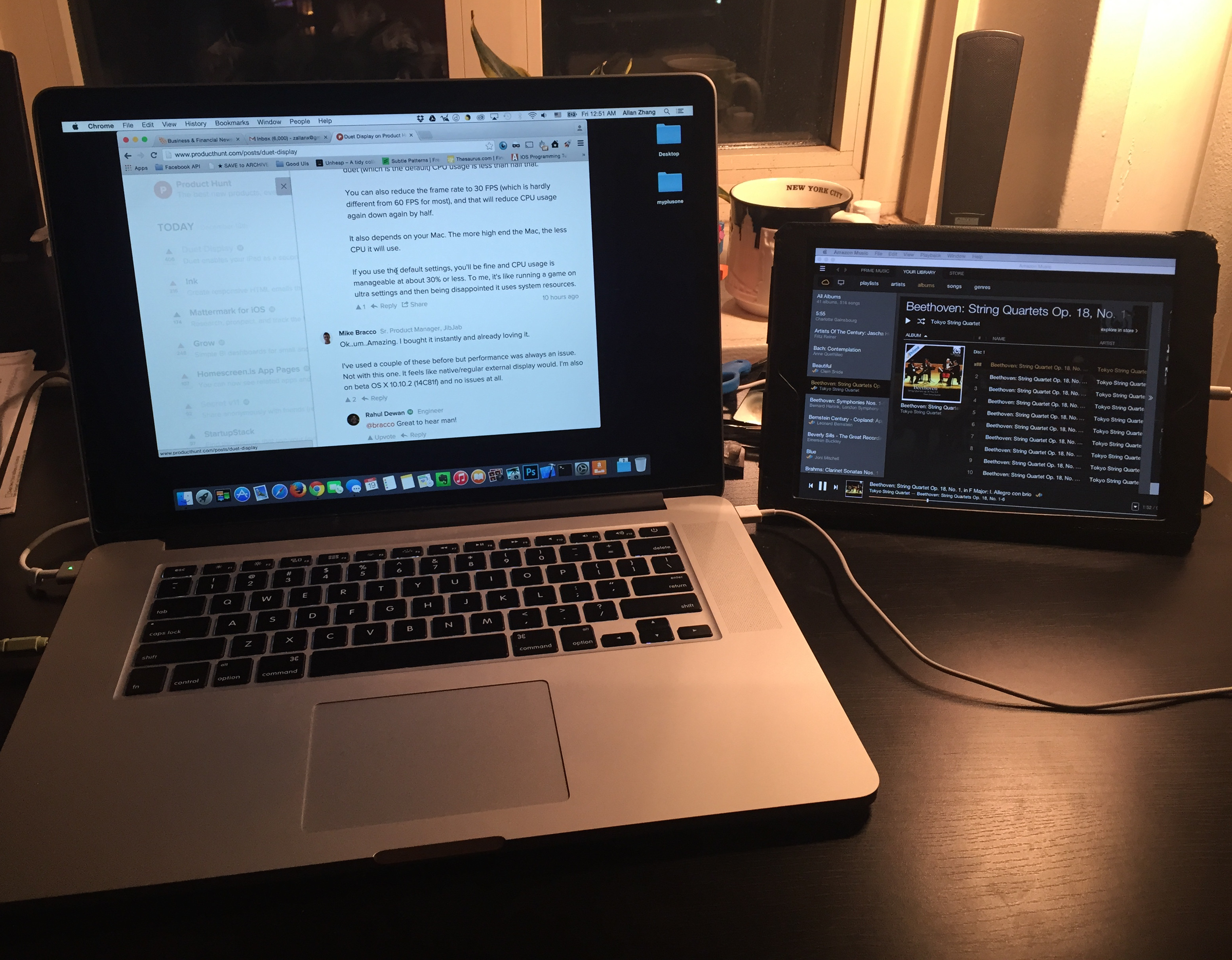 Also, while there may be a slight lag when using retina and 60fps, it's perfect for stationary or reference materials that's good to have on an ancillary display. Great work.
Andrea Magee: I've had so many issues trying to use this, and am still having problems with even the basics like getting the app to load on my ipad. Definitely would not recommend this.
Rahul Dewan: @stttories I can speak to this, it definitely will happen. A retina resolution is extremely large and therefore running that display and getting it to the iPad is taxing. If you disable retina resolution for duet (which is the default) CPU usage is less than half that.

You can also reduce the frame rate to 30 FPS (which is hardly different from 60 FPS for most), and that will reduce CPU usage again down again by half.

It also depends on your Mac. The more high end the Mac, the less CPU it will use.

If you use the default settings, you'll be fine and CPU usage is manageable at about 30% or less. To me, it's like running a game on ultra settings and then being disappointed it uses system resources.

============
EDIT:
Our performance has increased dramatically and it is unusual to see above 1/2 of 1 core usage for duet even at the highest resolutions and activity.
Derek Shanahan: @stttories @rahulda1 So pumped to see such a forthright answer here - zero fluff about the issue and helpful suggestions. Kudos.
Isaac Rosenberg: @rahulda1 Now I can actually see a use for my iPad.
Rahul Dewan: @amurepinho Thanks! That's great to hear.
Matt Kremer: @bracco Agreed, BetterSnapTool is absolutely amazing. Highly recommend.
Rahul Dewan: @eric3000 @BrettdeM Thanks so much! Glad you like it.
Amure Pinho: @rahulda1 Congratulations Rahul! Just bought it. Excited to blog using Blogo and using the 2nd screen as the preview widget. Amazing.
Rahul Dewan: @bracco Great to hear man!
Rahul Dewan: @joshuaoxj What country are you in? It should be available.
fel¡x: @eric3000 i've been using it beta - it's awesome. There's sometimes a tiny lag (feels more like a jitter), but I nearly never notice anything when I'm actually working (as opposed to fiddling with the display just to see if there's lag :). I've been using this with an iPad mini (in portrait mode) and it really makes the difference in productivity. It even works with my iPhone 6, but I couldn't figure out any usecase where that would be useful. :)
Rahul Dewan: @imsctt https://itunes.apple.com/app/due...
Yair Kivaiko: @rrhoover Exactly what I thought when I first seen the tagline. I was sure something like that was already out there.
Rahul Dewan: @daspianist16 That's awesome!
The following information is related to the job
Kamcord: We're changing how people share the internet--- Product Manager ---San Francisco
InVision: Prototyping & collaboration for design teams--- Senior Graphics Engineer---New York City
Anchor: Record bite-sized podcasts that anyone can join ⚓--- Lead Front End Engineer ---New York City
Gimlet Media : A network of high-quality, narrative podcasts--- Editorial, Production & Engineering ---Brooklyn, NY
Quora: Share and grow the world's knowledge--- Product Designer ---Mountain View, CA
Skurt: Tap a button, get a car delivered to your door--- Software Engineer ---Los Angeles
Mount a second screen (iPad/iPhone/tablet) to your MacBook

Use Touch Bar on an iPad through USB connection

Use your iOS/Android device as an extra display

Your iPad as a beautiful extra display, now for Windows

Turn your iPad Pro Into a high performance drawing tablet

Magnetic tablet mount for desktop computers

The complete toolbox to manage your monitors

Turn your iPad/iPhone into a wireless display for your PC.