yes.no
介绍:Ask people you admire things you've always wanted to know
更新时间:2016-12-24 10:43:20
目标网站: 查看详情
Melanie Amini: I love this idea. It's a really great idea to help both the "user" and the "infuencer". I am often asked advice on and help with startup ideas, MVPs, existing companies, landing pages, markets and basically help to validate an idea that's being conceived. I mentor and help founders and individuals via accelerator programs and my own women's organisation on the daily and really try to be part of the startup community i live in but i don't think messenger is the only platform i can be reached on - there should be more. It's currently the easiest way to contact me and most of the questions come to me through there as its easy to reach me there. But i'd like another platform to have a wider reach.
Most people won't know how open i am to questions and helping out unless they know me or they've just given it a go and pinged me but i am very open to helping and its one of the best parts of the job in this entrepreneurial world i live in. A 'direct way to reach the person you want to reach', quora style product for people is a much needed idea and i'm glad its here. Well done to all that worked on it.

/M
Rob Williger: I just learned about this site yesterday and played around with it for a bit. I like the format of it being ongoing. I also like that it seems most people with expertise can participate and answer questions not just the anointed ones.

Of course, the real question will come in the development of the community and having the people asking and answering questions.

A site I definitely plan on exploring a bit more.
Benny Shaviv: This looks awesome! would love to have this access to the tech celebs.
erez_z: I like the idea and love the design. Nice work guys.
Do you also plan to have a community interview? Like a certain time for AMA where everyone/invited people can join?
Benyamin Shoham: Excellent product. The Internet is all about social interaction, and Q&A is one of my favorite formats for it :)
Dana Severson: Was invited to do a Q&A on the platform a couple of weeks ago. Was really impressed with experience. Congrats!
Jack Smith: I did an AMA type thing with them here: https://yes.no/jack-smith

Here's a video overview:

Eyal Zuri: I like this idea!!!
orliesaurus: ...but do you have Elon Musk on there?
Illai Jacob Gescheit: Guys, I love the idea! This is exactly what I was missing from Q&A platforms such as Quora and Jelly app. The focus on the person and not the question will enable not just to get valuable answers and information about questions, but most importantly will give the opportunity to build last-long relationships. I think that this opens the door to talented people in business, education and much more, and connect them to influencers who might mentor them or really give them the chance to fulfil their potential.
Rui Delgado: Are you guys going to implement short URL/username system to make it more appealing for users?
Adi Goldstein: Thats perfect, Its seems the perfect combination btw Quora and Reddit ! Congrats guys, keep up the amazing work !
ossama benallouch: Kudos for the great work. One thing I think that it could be improved is the Discover page. It will awesome if I can read the full description of the person, three columns per row will be perfect.

How did you guys get the initial traction?
Rob Williger: Thank you for releasing an Android app at the same time as iOS. Nice to not be a second class citizen :)
Mitchell Cuevas: Cool, reminds me a lot of Wiselike, would love your insight on what is different! https://www.producthunt.com/tech...
Lior Frenkel: As long as I can ask Dan Ariely whatever I want, and have a chance to get a direct answer - this is 1000x better than Twitter, Facebook and Email alltogher.
A very hard promise to make, but I'll give them the benefit of the doubt that they can live up to it.
Good luck yo!
Assaf Levy: Good day hunters - I'm Assaf, the CEO and co-founder of https://yes.no. Thanks for taking the time to check us out - Q&A is what I love, so I'll be available all day for any and all questions...

We're super excited to be launching our crowd interviewing platform on Product Hunt after going live on web, Android and iOS!

*Why?*
Most of us have questions we'd love to be able to ask our heroes (and get answered), but there isn't always a simple way to do so. I myself had a question for a musical hero of mine, Samy Birnbach (Minimal Compact vocalist and lyricist), and I dedicated a lot of time and effort to get my answer. I realized that a lot of people have the same problem, that others would benefit if this interaction had been in the public realm, and that my hero enjoyed engaging in meaningful, respectful Q&A. And thus, https://yes.no was born.

*Who are we?*
We're an 8 person startup, having just launched our web version and gone live on both Google Play and the App Store in 11 languages (with 20 more to come!). We are currently working hard to recruit interesting experts and public figures, with some good results so far! Check out Nobel laureate Alvin E Roth.

*Why are we different?*
- We focus on the person, rather than the question. Sites like Quora help you find the best answer to your question, by sharing it with the community. On yes.no however, we want to connect you with a specific person that you have a question for. So you can ask your questions to a professor, or your favorite actor, or an entrepreneurship guru, and get authentic answers.
- Time is no object. Many popular AMA services (like Reddit's) have been providing a platform for interesting people and their fans to connect through Q&A during one-off events, which don't provide an opportunity for continuous dialogue. On yes.no, users create profiles that they can come back to as and when they feel like it, just as they would on other social networking sites.

*How can we improve?*
We currently have a few thousand users, but we are constantly looking to provide a better experience and are still learning how to provide the best value for our users. What do you think we can do to improve https://yes.no?

Always feel free to contact us directly: Assaf Levy, CEO: assaf@yes.no, Jonathan Doron, BizDev: jonathan@yes.no
Stefanie Amini: Great product and seems like a great team. I actually heard about this a few weeks ago and even attended an AMA. Learned a lot and hope to be on there myself one day! In the mean time have got great stuff out of it. Good job guys. Definitely deserves an upvote.
Elya Weingrod: Hi guys, looks like a great product!!

I think you should consider on allowing users to follow "topics" or categorize.
I can say for myself that i don't know to many people in the "Biz" so don't really know whom to follow and what to look for,
giving the opportunity to follow a topic,category,company etc... (using tags?) may give a better way to start-off.

Way to go!
Uri Eliabayev: Wow, They managed to get some of the best investors and enterpnuers in the world. Really amazing platform!
Gil Eyal: Love the name!
Ben Tossell: What are the chances someone would even reply to you? This is another platform for 'tech celebs' to get bombarded with questions? What would entice them to sign up?

Why couldn't people just tweet them questions?

Often people do reddit AMAs or even Product Hunt LIVE Chat's where people can ask them things (understand that this is a specified time-frame though).

Is this platform a sort of ever-lasting, open AMA?

People just use Quora for this type of thing, no?
Ohad Aviv: Hi guys, nice job.
With the hope of Yes/No attracting the "right" people from different verticals, this could be a great way to be topic-focused and rise above the noise of other "personal" (social etc) communications methods.
Tal Shoham: Some fantastic initial names in there. It also seems to me like a good networking/biz dev tool. Good luck!
Itamar Rogel: Very interesting idea - would be interesting to follow the evolution of this as a community and a social medium. Good luck people!
yonatan doron: @thepaulcurran @atlantis76 @snoopdogg He is on my hitlist :) One day I will reach him and bring him to yes.no
[deleted user]: great work!
İsa Basan: @jodoron Nope, thx. It was just about testing producthunt website :)
yonatan doron: @muloka @rui Thanks Louis for the feedback.
Louis Galipeau: @rui That was the first thing I wanted to customise as soon as I created the account.
yonatan doron: @samir_doshi @atlantis76 Hey Sam and thanks for the question, it differs from one hero to another but in general we have very good response rate and willingness to use yes.no. Further, we have a nice amount of hero's that are active and answering question on a regular basis.
yonatan doron: @konradcaban Thanks so much Konrad :) working our best to provide value.
yonatan doron: @cruzheres Thanks a lot :)
yonatan doron: @chefkatelyn Thank you so much for the feedback Katelyn,

I can let you know that we are always looking for women hero's to participate and answer questions on yes.no, I personally reached over a hundred influential women across the world and invited them to join yes.no - following up and inviting more :),

It is also very important for us to have a more equal representation in our front page and in our network. If you know specific women hero's who would like to participate and you can make the intro, I would love to help them onboard on yes.no, reach me to jonathan@yes.no
Sam Doshi: @atlantis76 How do you guys go about onboarding prominent figures? Are they receptive to this platform?
yonatan doron: @ariked Sounds very interesting thanks for that Arik :) we will sure check it out and see if it could fit.
Arik: @jodoron exactly :) and also replying via SMS :)
mihir : Thanks. I'll ping you.
yonatan doron: @mhrnik Thanks a lot for the nice words Mihir :),

It's my pleasure to share the knowledge I learned so far, sometimes all you have to do is ask people to join, perseverance of course helps. When you get an initial traction, it becomes easier to get more hero's to join. Would love to help you also in person with your startup if you need with ideas and strategies to do that, contact me: jonathan@yes.no
yonatan doron: @neerajt4 Yup, that's what we aim to :) thank you Neeraj!
yonatan doron: @_jacksmith Thanks for participating Jack!
yonatan doron: @amostheboss Thanks a lot Amos :) Happy that you like yes.no
yonatan doron: @mcuevasm @atlantis76 Our pleasure, thank you for giving this detailed feedback :)
Mitchell Cuevas: @atlantis76 Nice, thanks for that, very helpful.
Assaf Levy: @mcuevasm Thanks Mitchell, we'll take that as a compliment!

A few answers to your question...

We see yes.no as more of a traditional network than Wiselike, with a home feed and cross-platform functionality.

A unique emphasis for us is what we do with unanswered questions and upvotes. Fans ask questions, and others upvote the best questions that they want answered too, resulting in a list of the most popular and trending questions. This in itself can be used by answerers to identify what they should be answering, as well as by us to collect questions for people who haven't yet joined, in order to bring them to the platform.

On top of that, we don't allow the Anonymous asking of questions at all, we have a strict policy to maintain transparency and respect on the site.
yonatan doron: @itamarro Thanks a lot on the input Itamar :) Would love to have you join us as the community take its shape.
yonatan doron: @mcuevasm Thanks for the awesome feedback Mitchell!
yonatan doron: @isa_basan Can I help you with anything Isa?
yonatan doron: @aleattorium Hi Jean - thanks for the feedback! What device are you using? The app should take on the language of your device, what language is your phone in? We are aware of a bug in some cases that instead chooses language based on country, and are working to fix this. If you'd be happy to provide more details to support@yes.no, it would be much appreciated!
Eli K.: @jodoron KenVelo is a clothing store in Israel. Ken(yes) Ve(&) Lo(no). The joke completely lost its humor when I had to explain it.
yonatan doron: @eli_s_kami Ohh, not I got you :) Sorry it's been many hours I spent now in front of a screen XD
yonatan doron: @jony_levin Jonathan love your comment :) thanks for the support.
Assaf Levy: @kkahn23 Thanks Kevin for your kind words. We'd like to avoid bending our vision and dream for short term financial revenues. Hence, we consider alternatives such as allowing 'heroes' special asking permissions.
Rui Delgado: @jodoron If I were to use Yes.no, I'd like to give other people the URL yes.no/rui
And also, to have @rui inside of the platform.

I think it's a very interesting concept, I might enjoy using the platform. Are you thinking of adding a "dismiss" button to the questions?
yonatan doron: @yosit Hey Yosi, thanks for the feedback! Twitter and Facebook are both wonderful platforms, but they are a lot more general than yes.no, which is designed specifically for Q&A interactions. This means that content does not get "swallowed" in the same way. In yes.no , questions and answers live together, on a specific user's profile, are categorized by tags, and are easily searchable. Furthermore, twitter is a very "in the moment" network, and that means that as time goes on, your tweet becomes less and less relevant. This is simply not the case on yes.no, where publishing control lives with the answerer, and users are encouraged to take their time and respond when they're ready.
yonatan doron: @kevinayuque Thanks a lot Kevin :) Happy to hear.
yonatan doron: @rui This does makes sense, thanks for the idea, will definitely check it out :)
Rui Delgado: @jodoron Instead of clicking "..." and then "delete question", just one button to dismiss it. It's going to be helpful for the people with a lot of following.
yonatan doron: @shaharyakir Hey Shahar, sure thing, at the moment we are not limiting people from answering questions as a company / npo / ngo etc.. Feel free :)

And thanks for the question!
yonatan doron: @liorowsky Thanks a lot Lior for the awesome words :)
yonatan doron: @eli_s_kami Hey Eli, thanks very much for the worm words,

Not sure exactly what is kenvelo so can't really tell what you mean.
yonatan doron: @nissimle Thanks a whole lot Nissim!
yonatan doron: @rui It is a totally cool idea and I already opened it up for conversation with our R&D team,

Thanks for the compliments,

If you would like to delete a publisher / unpublished question you can easily do it, was that what you mean?
yonatan doron: @ossamaweb Hey Ossama, thank you for the lovely words and support :)

Thank you for the awesome idea about the discovery, we are actually brainstorming about it, as from experiments that we have conducted with our users: some people preferred a discover page with a name / title and that's it, while other like you preferred a more elaborate profile bubblicons in the discovery page.

We are testing it out and will do what most of our users would prefer eventually!

About traction - there is no replacement for hard, manual working of reaching out, following up and convincing people to try your product. It get's smoother in time, when you of course manage to recruit interesting people your product.
yonatan doron: @danerobert Thanks so much for the awesome words Dana :)
yonatan doron: @yonidariel Thanks very much for the support Yoni :),

We have not seen any kind of bot activity yet, we can develop tools that will block these bots when and if they will show up. There are some manual blocks though that are currently taking place to prevent this kind of activity in yes.no. But definitely a good point here thanks :)
Jack Smith: @bentossell yeah. it's another platform to maintain. but the user-onboarding for me (to answer questions that people had left me) was awesome. there was like no signup process. they just dmed me a unique link and i instantly was able to start answering people's questions. very frictionless
yonatan doron: @ebesser Hey Evan, thanks for the love and support :),

As we are a startup in the begining of our way, we do a lot of manual work of inviting them over and corresponding with them. Most of the hero's we reach out to are positive and joining in very fast actually which is a good sign for us.

In order to make it scalable of course, we encourage users to invite hero's by themselves and ask them questions, upvote them. We built tools to monitor highly upvoted questions - thus indicating us that a certain hero is more desirable by our community than others - and than we charge :) and bring him in.

Things become more scalable like in every startup I think, once you get the initial traction to your community
yonatan doron: @rui Thank you Rui for the awesome idea!

If I understood you correctly, enabling users to change their @ tags like in Twitter for some more customization is definitely something we are thinking of and would love to implement.

How do you see it in your vision?
yonatan doron: @alirtariq Hi Ali - thanks for the support and feedback, it's much appreciated!

You're certainly right that building a community from scratch is no easy task, and it can take some time for it to develop and reach a good balancing point.

In terms of indicating that answers have made a difference, we have recently introduced the 'like' feature (heart button) for answers (having previously focused only on the upvote for questions). This is a simple but effective way of expressing that an answer is good and appreciated. But definitely agree with the sentiment here, and it will be interesting to think of new and better ways to express this. Any suggestions for how we could do this in a more powerful way would be most welcome!
yonatan doron: @farhanarahman Thanks a lot Farhanna for the feedback,

Our agenda is that we would love users to share and quote answers they find here, it's similar to a news article, you should add the site you quoted from in the credits and it't totally alright.
yonatan doron: @amroshahbari Thanks so much Amro :) exhilarating to hear you're enjoying yes.no
yonatan doron: @robertwilliger Android users are never second class citizen for us :)
yonatan doron: @robertwilliger Hey Rob and thanks for the feedback, yes you can currently share your answers from your profile page to Facebook / Twitter / LinkedIn,

Let me know if you didn't managed. Also welcome to shoot me an email to jonathan@yes.no
yonatan doron: @erikbrodch Thanks a lot Arik :) Would love to have you answer questions on yes.no!
yonatan doron: @robertwilliger Thanks Rob, that's truly a value we can help provide with our product, there are many "smaller-scale" influencers gathering audience in yes.no
yonatan doron: @ariked Thanks for the nice words Arik :) Could you elaborate a bit, you would like us to support people asking questions via SMS?
yonatan doron: @bysdan Thanks Dan for the feedback :),

yes.no is a crowd interviewing platform. This means that we use the power of the crowd both to source the best quality content and to help us recruit the best quality users. Upvoting other good questions both creates a system of trending content,

and helps us in our efforts to bring new and interesting people to the platform. We can create pages about your heroes where you can ask and upvote questions, and this is the vital ingredient for our campaign collateral! You may of course also find that there are many yes.no users who will interest you.

We're building a category tagging system that will enable easy discovery of relevant content and users.
yonatan doron: @benyamin_shoham Thanks loads Benyamin :)
yonatan doron: @gilazr Thanks so much Gil :) Happy to hear you liked our product.
Ben Tossell: @atlantis76 Yeah I just used 'tech celebs' as an example as that is what I know.

How many people have you approached to be answerers that have said no rather than yes? What do you pitch to them as the benefit of them maintaining this platform and answering questions?
yonatan doron: @themelamini You lead people and advise - by doing so you are already an entrepreneur celeb :) we treat all of them equally.
Melanie Amini: @jodoron Yes! I'd love that - i think it can be my quickest route towards entrepreneur celeb status! Joking, not joking!
yonatan doron: @orliesaurus Not yet, but we're working on it! We've created a page for people to ask him the questions they'd love for him to answer (see https://yes.no/elon-musk), and we aim to build up support, identify the most popular questions, and use them to bring him to the site! Feel free to ask there the questions of your wildest dreams...
yonatan doron: @nird Thanks so much for the nice words :)

Live Q&A sessions are, as implied by the name, only sessions. This means they are one-time events, and therefore most interested parties will likely not be able to participate. yes.no allows continuous interaction through the network, which itself takes some of the burden off the answerers, who are free to answer their audience's questions as and when they want to.
yonatan doron: @bentossell @atlantis76 Hey Ben, thanks for the questions, my name is Jonathan and I am actually the one reaching out to interesting people and inviting them over to answer questions on yes.no, many of them have tried various AMA sessions and some also use Quora.

I could tell you that a lot of interesting people I approached to try yes.no were very positive to try, I get about 40% respond rate and out of those more than 50% are very positive about having their audience ask them questions and upvote them, to surface the most interesting ones and basically make the celebs answering-time more efficient. Whenever they have 2-3 minutes to interact with their audience they can do so, rather than allocate a hour for a live session once in a year or half a year.

Another aspect is that questions answered become a sort of a board of FAQ's and various other questions around a specific person. This way you answerers can direct people asking the same questions to this "board" in the future to benefit them the second time.
yonatan doron: @anujadhiya Thanks Anuj for your valuable feedback.

We can totally appreciate what you're saying, and we recognize this issue itself. It is to do with this being early days for the network, where the surfacing and trending of quality content is a lot more difficult.

At the moment we are working on bringing interesting people to answer, as well as their audiences. It is an ongoing process that we are refining. We are also working on the onboarding, to make those first 30 seconds magical!
yonatan doron: @roypovar Thanks for the being a faithful user and a supporter Roy :)
yonatan doron: @sebastien @atlantis76 Thanks Sebastien :)
yonatan doron: @darshu Thanks for the honest feedback Daria! If I get you correctly it's about the users shown on the discovery/landing page. The people shown there will vary according to your location, and are simply people who have agreed to participate (regardless of who we have reached out to). That said, we completely agree and are focusing efforts to bring a more diverse set of users to yes.no. Any suggestions for interesting people to recruit would be much appreciated! Would love to get an intro and help them open their page on yes.no, my email is also jonathan@yes.no
Assaf Levy: @roypovar We love to have you on our site, Roy. Main target audience for now, when launching, is tech/business/science. But soon(!) we want to get out of our 'bubble' and get more public figures, thought leaders and .... celebrities.
yonatan doron: @shatztal Wow, thanks for the wonderful words Tal :) Glad you like yes.no and our work.
Sébastien Rozen: @atlantis76 Impressive, thanks!
yonatan doron: @hamutsi We're glad you found some interesting people to follow and read answers of in yes.no :), What other people would you expect us to bring to keep you intrigued?
Assaf Levy: @sebastien Forgot to mention! Languages are: English, Spanish, German, Italian, French, Portuguese, Turkish, Russian, Japanese, Chinese & Hebrew.
yonatan doron: @jakeapeters Thanks Jake for an awesome idea, will definitely consider it :)
yonatan doron: @elyawp I think I am in love with this gif :) thanks Elya
Elya Weingrod: @jodoron !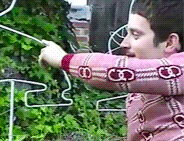 via giphy.com
Jake Peters: @jodoron It wouldn't be fun running a startup without the challenges 😁

I'll be interested to see how you get on with the relationship building side. Because building meaningful relationships is a massive problem for a ton of people, and not one that's really been solved yet.

Honestly I'm not sure what you could do. It just feels a little transient over there. You ask a closed question, get a closed answer. Maybe threaded answers / conversations could work—so you ask a question, get an answer, and can then publicly carry on that conversation.
yonatan doron: @niron Thanks for the kinds and honest words Nir, working hard to build ourselves and provide this content on a daily basis :)
yonatan doron: @themelamini Thanks for the awesome perspective Melanie :) we would love to have you answering questions in yes.no
yonatan doron: @fredrivett Thanks a thousand time Fred :) doing our 200% best.
Fred Rivett: @jodoron Fair play. All the best with this Yonatan, hope it works out! 👌
yonatan doron: @bentossell Well as we do most of the onboarding for new celebs mainly now(we are in the beginning of our way) I go through all the questions to see that they are respectful and intelligent and approve them.

This would also be the extra-mile we will work towards, providing a good service for celebs filtering and moderating their questions so they would not have to handle it, all they'll have to do is answer when they can according to upvotes.
yonatan doron: @bentossell I might have been not clear enough sorry, when I wrote positive i meant those 20% are on yes.no, they open a profile and start answering questions, thus, all positive people are joining in and becoming active users.

I am talking about people who take questions and answer.

To the second part of your question about hundreds of people asking, the way we manage scaling of questions by upvotes and moderation, the celeb can approve or disapprove the question for people to upvote it. A celeb can have a million questions asked, but post only 100 for upvoting and than finally chose to answer 5 of them during the 2-3 minutes he has to engage, but further on when other questions are upvoted again and he finds another few minutes to interact with the audience he than answers again, and repeats itself.

If you meant to ask about what makes the 'regular' user interact or get value from our product, then a lot of people as content-consumers are intrigued by their influencers' opinions. In yes.no they are welcome to find this content and subscribe to it, and of course to discover other answers by interesting people.
Jack Smith: @bentossell seems more collated/orderly than quora from my usage of it.

as you say, this is ever-lasting. also, only certain people get invited to do reddit/product hunt amas. anyone can be asked questions via this
yonatan doron: @fredrivett Thanks for the honest feedback and nice words :) we believe it is quite hard for Quora to just develop such a feature, because it's a whole new shift in core value of a product rather than a feature development. Thus, changing Quora's core value proposition from "crowdsourcing questions to anyone who would like to answer" to what we do - getting answers from the people you admire.
yonatan doron: @gileyal Thanks Gil, happy to have you onboard :)
Stefanie Amini: @jodoron Thank you! I would love to!
yonatan doron: @stefamini Stefanie, it's amazing to hear you know us for weeks and that you like our product :), you are more then welcome to start answering question in yes.no as I am sure you can provide a lot of value for our users.
yonatan doron: @rubenvivanti Thanks for the nicest words Ruben :) It is of course one of our goals.
yonatan doron: @bouazizalex Hey Alex, thanks for the support! Yes indeed, ask.fm is very successful, although sometimes at too great a cost. That's why we're dedicated to offering a moderated and respectful Q&A environment, without any option for asking anonymous questions.
Paul Curran: @atlantis76 @snoopdogg needs to do an AMA on yes.no. He'd be the king! Congrats on the launch!
Assaf Levy: @bennyshaviv Thanks Benny! Just sign-in and ask them the stuff you always wanted to know. exciting things happen here.
yonatan doron: @illaigescheit Thanks so much Illai for the feedback :)
yonatan doron: @jakeapeters Thanks for the feedback Jake! Like every startup at first there will be challenges. Having said that, we rely more on the mechanism we built in yes.no. Quora is all about the questions rather than answers, you can ask a question and a thousand people would respond but not the person you care most about their answer - we tackle that issue and give it more "spotlight" in our value proposition.

Relationship building is one of the most important challenges for growth in any social network, we have a few plans ready for when we grow big enough with our audience we will implement them to enhance relationships, but it intrigues me, what would you do differently on yes.no to increase the creation and sustaining of a relationships within yes.no?
yonatan doron: @guyklr Questions are all about the person being asked, so it differs from one local hero to another.
yonatan doron: @rotemthegolfer Noted, we are already working towards reaching out these guys along with other influencers under the larger category of Entertainment.
Rotem Yakir: @jodoron Soccer players of course (Messi, Ronaldo, etc), golf players (Rory, Tiger, etc) and more :)
yonatan doron: @volodarik Thanks for the feedback Aleksandr :), first of all you are welcome to send me to jonathan@yes.no, who are the interesting people you would like to see on yes.no and I promise to do my 200% to get them onboard for you,

Other than that, you are welcome to ask them a question and share it to your social cycles and audience, inviting them to upvote the question. When we see questions upvoted to a certain amount we are able to recognize it and than realize this celeb interest our audience and than we start operating towards getting the answer also from our side.
yonatan doron: @robertwilliger Thanks loads Rob! the ongoing part is exactly what we think could provide extra value for our users!

We realized very fast other that the "mega-celebs" there are a lot smaller scale celebs that we call "local-hero's", the purpose of yes.no's entire existence is to give a stage for any community leader or influencer to take on Q&A in a respectful manner.

Would love to have you exploring yes.no and hear your ideas and feedback also in the future :)
yonatan doron: @eyalyavor Thanks for the feedback Eyal :) We are exactly trying to do that and combine the network effect with traditional Q&A, in a respectful and intelligent way.

You described what works well for Quora, we are offering a different product. The focus is about the person rather than the question, highly interesting questions will be upvoted by the sub-community(audience of that celeb) and surface the most "trending" questions for that celeb - that's our idea of how yes.no should be.
Guy Keller: @jodoron Sounds fair :-)
What type of questions usually gets the most upvotes in the Yes.no community?
yonatan doron: @theyonibomber Hey Yoni, thanks for the feedback! Developing such "virality-enhancing features" is definable on our roadmap. In order, not to get biased with allegadley high traffic that can make us "blind" we prefer to focus on creating real value for users in a smaller scale. When we feel like we got this and made a good-enough product we would add further traffic-enhancing features like so, but agreed it is a very important feature.

For the second part of your question: first of all, for me, hearing this feedback is the most essential part of this launch here. We care about what interesting people our users want to see, we are currently working on enhancing the amount and quality of interesting developers and designers and product people on yes.no.

We also encourage you to invite your hero's to join yes.no and start answering questions :) you can make an intro to me and I'll help them in every step of the way to creating their celeb page, welcome to reach me at jonathan@yes.no
yonatan doron: @bennyshaviv Benny thank you for the awesome words, I can assure you we are putting in 200% of our effort to enable that, and in scale :)
Rob Williger: @_jacksmith @bentossell I think that is a key part. The fact that anyone can get involved and answer questions. It may not be for the tech celebs but maybe those who aren't as well known to be able to engage and maybe build a bit of their platform.
yonatan doron: @tlshoham Thanks so much, that's an intriguing perspective :)
yonatan doron: @shal3v Thanks so much Shalev :)
Assaf Levy: @shal3v Thanks Mr. Levi ;)
Assaf Levy: @tlshoham Thanks Tal for the kind words :)
yonatan doron: @shlomizadok I am happy to hear you like yes.no :) and thanks!
yonatan doron: @ohadaviv I totally agree and actually working on this as we speak :) well not this instant since we're live on Producthunt. We are building further categories and already onboarding new interesting celebs in different categories. That is the path we also believe could help build yes.no to a better product.
Ohad Aviv: @jodoron no specific ones in mind Yonatan. I think there is a great opportunity to expand beyond the immediate suspects, i.e the "tech celebs" (credit: @bentossell ;)) which are already sort of reachable on other channels.
yonatan doron: @rotemthegolfer Thanks for the feedback Rotem! The current categories we have are: "Technology", "Business" & " Science", under them there are also a few sub-categories. We make sure a category has enough celeb "presense" before adding them as an option.

What kind of categories would you like to see in yes.no?
yonatan doron: @arielassaraf Thanks for the awesome spirit Ariel! :)
yonatan doron: @cfjwilliamson @quora Hey Charles, thanks for the question! In regards to Twitter you can see the answer I just wrote to Yosi above,

About Quora, you could look Assaf our CEO's words above:

"We focus on the person, rather than the question. Sites like Quora help you find the best answer to your question, by sharing it with the community. On yes.no however, we want to connect you with a specific person that you have a question for. So you can ask your questions to a professor, or your favorite actor, or an entrepreneurship guru, and get authentic answers.
- Time is no object. Many popular AMA services (like Reddit's) have been providing a platform for interesting people and their fans to connect through Q&A during one-off events, which don't provide an opportunity for continuous dialogue. On yes.no, users create profiles that they can come back to as and when they feel like it, just as they would on other social networking sites. "
Ben Tossell: @jodoron Yeah I understand the upvoting of questions but you said that the 'celebs' have to approve the questions to be upvoted in the first place? So that will still be a challenge if loads of questions are asked, no?
yonatan doron: @n1rc0 Thanks Nir for the nice words! Broadcasting your question to the yes.no community or your followers is an awesome Idea! We would definitely consider it and put it in our roadmap :)
yonatan doron: @omriavisar Thanks for nice words Omri!
yonatan doron: @robertnachum7 Thanks Robert!
yonatan doron: @bentossell I see, so for the first part of your question: This would be the brightest day for us :) when users receive so many questions. We could live with celebs being blasted with messages as from their side they will begin answering those that are highly upvoted. Potentially, upvoted questions answered could also be the answer to many other questions that were asked thus, those questions would not need to be answered.

We can't determine an exact number or % of probability to get answers, we look at it from a different perspective, we encourage our users to "push", share and distribute their so desired question to their friends and connections to increase the probability of the question being answered. We can say one thing for sure, this works.

We wanted to build a scale able mechanism that will promise high probability of questions being answered rather than just temporarily satisfying our current users.

Currently, we do not have a problem with reaching highly influential people to take answers and this is not what we promise, we don't say "Yes.no will get you answers from Bill Clinton or Eilon Musk" we're being totally transparent about it. The celebs that are onboard and taking questions are featured on the discovery section and also have the "V" mark for credibility to show they are who they say they are in their profile.

In terms of scale, our assumption are that in the future, if we build it right, yes.no has the potential to grow organically and have interesting and influential celebs join in by themselves, so far our experiments in onboarding "smaller-scale-celebs" have yielded positive results.
Ben Tossell: @jodoron no I get the value users can get but I'm on about the people answering questions.

You can they can have a million questions asked but they have to approve. So exactly the same situation as I mentioned, what happens when 100s of people ask them questions? They wont want to look through LOADS of questions?

Yeah so for you as a company to get 20% of people you reach out to, on the site to answer questions. What are the odds of a user getting a question answered?

What if you can't get enough of the right. high-profile people to answer questions on the site?
yonatan doron: @ohadaviv Thanks so much for the positive spirit and belief in our product :), What verticals would you recommend we focus on, what interests you?
yonatan doron: @yprez Thanks so much Yuri! and I love your suggestion, it is actually something I suggested a while ago and we are totally aiming to bring that to our users! spot on Yuri.
yonatan doron: @guyklr Thanks for the positive vibes and feedback. It depends who you asked, not everyone will be able to answer all the questions they get, and that's where upvoting comes in. The most popular questions will be self-evident, and will help us bring them to the site, as well as help them decide what to answer first. So get upvoting! By upvoting your freshly asked question you increase the chances for a fast response from your hero.

Other than that, we do our 200% to constantly onboard interesting people on yes.no to answer your questions :).
yonatan doron: @tesslerc @elyawp Thanks Chen, actually Elya asked a similar question, the answer is that we are currently working on providing a more smooth experience to follow content people want :)
Chen Tessler: @jodoron I think maybe a "trending" or "most popular" based on categories / follow based on topic and not only people.

For instance, I really like technology - any type, anywhere. I am more interested in seeing what people are asked and what they answer - on this specific topic and less interested in their opinions on economics and so on.
Also I don't really know who would be interesting and who would not (hence no idea who I should follow) - so following a topic would be easier.
yonatan doron: @erez_z Thanks for the feedback Erez, Live AMA sessions are fast becoming a sensation all over. We recognized it, but we think there is a big downside as we see it - the temporariness and the volatility of the answers, we try to make a place where questions and answers "get the respect they deserve" and serve them in an appropriate way.

We try to make a friction less, time less, experience of AMA's.
yonatan doron: @tesslerc It's invigorating to see that you love our product Chen, feel free if you have any ideas or suggestions to improve, we too can always learn :)
yonatan doron: @eyal_zuri Thanks Eyal :)
yonatan doron: @elyawp Thanks for the awesome feedback Elya! Category following is definitely something we would love to have, we currently have "Technology", "Business" & "Science" as categories we provide real value of answering professionals and interesting people. We make sure a category is strong enough and has a nice volume of interesting people on before enabling it to be searched. Under these three key categories we also start to add several sub-categories like product for example.

We just recently released an option for people to use tags, which will enable you to follow topics, hopefully in the near future.

The way you currently can find people according to topics is limited to the discovery, we promise to work and make this feature available!
yonatan doron: @shashamir Thanks for the nice words :) Glad to hear you enjoy yes.no
yonatan doron: @shaharyakir Thanks Shahar :)
Ben Tossell: @jodoron OK so my concern here is that if you get 40% to respond and around 50% are positive... Lets assume thats 20% of the outreach that responded and are positive... how many of those actually take part? It's one thing saying 'yeah looks awesome' but another thing when committing time to it...

Also if you (as part of the company) can only get around 20% to respond AND positive then what happens with hundreds of people ask questions to the same person?
yonatan doron: @adigold1 Thanks for the nice words Adi :)
yonatan doron: @urieli17 Thanks for the thoughts Uri!
yonatan doron: @jacksitt @bentossell As part of my work here, I tried various times to reach out to celebs in Twitter, the higher scales of celebs like Justin Timberlake and so on are not so likely to tweet so I totally understand and agree with you Jack
Jack Sitt: @bentossell I had the same question in regards to tweets. However, the truth is that I do not get an answer over 90 percent of the time when I tweet someone famous.
Yuval Maoz: @bentossell I've tried this platform for a while, and actually found some sincere answers on controversial topics (political issues). So, it's not just about techies and an overall nice platform to get direct (but short) answers without the usual fluff around it.
Ben Tossell: @_jacksmith I don;t use Quora so wasn't sure...

yeah but I'm just not sure what motivates the person to answer the questions... Another platform to maintain
Assaf Levy: @bentossell Hi Ben, thanks for your feedback and for your questions. Great points.

So, we are emphasizing the importance of the upvote in our platform. This is a simple mechanism for identifying the most popular and trending questions, that eliminates duplicate and spam questions that some stars inevitably attract. We want to promote the idea that answerers can choose, let's say, the top three questions to answer each month, which will in turn increase the quality and value of the content.

Other than this, we are not focusing solely on 'tech celebs'. Whilst this is where we have started (as it's near and dear to us), yes.no is a platform for connecting heroes from all industries and corners of the world with their respective audiences. A platform like ours is more suitable for this type of interaction, generating easily searchable and categorized content.

AMAs and sites like Quora both have their value, but yes.no is distinct from the former in that it is not a one-time session, and the latter in that it focuses on the person being asked, rather than the question itself.

Hope that answers your questions! Would welcome any more :)
The following information is related to the job
Buffer: Simple, powerful social media--- VP of Product---🌎
Kamcord: We're changing how people share the internet--- Product Manager ---San Francisco
Quora: Share and grow the world's knowledge--- Product Designer ---Mountain View, CA
Canary: Smart home security for everyone--- Product Designer ---New York City
Quartzy: Free lab management platform--- Data Scientist, Analytics ---Palo Alto, CA
Juicero: Healthy living made easy & accessible through technology--- Lead Frontend Developer---San Francisco
A search engine for busy people 🐙

The official Reddit AMA app

Create your own professional AMA page

Get Instant phone advice from peers

Reddit AMA's Meets Ethan Chat.

Speak candidly with peers and coworkers