Product Hunt 2.0
介绍:Discover and geek out about your next favorite thing
更新时间:2016-12-24 07:40:35
目标网站: 查看详情
Milan vd Bovenkamp ♠: Oh this is so so so meta. Even more meta (or ironic) that Techcrunch brought me here
Will Reeves: Hey @rrhoover can you give some insight into the data/proof points that led you to make some of these major changes.

Some thoughts/questions:

- As someone who loves to confront the "how do I get to the front page of PH" challenge it seems this redesign significantly ups the ante. As @kenrossi points out, while only a click away carousels often bury content and do not encourage free scrolling like vertical lists do. Do you see this redesign affecting the chances of newer, unheard of startups without brand recognition or connections to core hunters of making it to the front page?

- One of the largest changes seems to be that you have increased the "focus" of Product Hunt making the other sections in PH far more important and on par with the Tech section. This must mean that the data tells you that PH has clear/defined user cohorts that tend to use the other sections religiously and hiding them at the top nav was too much of a hassle for them, or it means you are trying to increase engagement with the other sections by bringing them to the fore. Which one is it?

-What metric/KPI are you most excited to track as a result of this redesign? (basically, what was the strategic goal behind the redesign?)

-Congrats @producthunt team on the bold moves!
Eytan Buchman: Bummer for other companies hunted today :)
Julie Delanoy: So happy to see this live! 🎉
Cole McCollum: These are awesome and important changes - Product Hunt needs to become a billion dollar company somehow! However, in it's current state I think there's an overwhelming amount of information and I can't pay attention or focus on any one thing. I also wish there was a way to collapse the giant carousel at the top of the page, it just takes up so much of my window.

I'm looking forward to the homepage being customizable, for example I don't care about games at all, but I would love to see more books and a podcast on occasion. The tech category will most likely always be the main reason I go to Product Hunt because of FOMO (I don't want to miss a new launch or not be the first to hear about something cool). If a book or podcast is new to me, it still has a ton of value, it just doesn't bring the same excitement. Anyways, really great work and I can't wait to see the next big change!
Fletcher Richman: I guess I'm having a different reaction than everyone else. I have been a ProductHunt fan since the beginning, and the design has been a huge part of the reason why the experience is so great. The vertical list provides a simple way for me to quickly scan new products/games/podcasts.

This new design is confusing and littered with distractions. I have no idea where to focus and feel like I'm just jumping around without a feel for organization or ranking. For me, this ruins the experience and makes me much less excited about spending time on ProductHunt, something I have loved since day 1.

Maybe, maybe, I'm just uncomfortable because its such a big change. I'll give it a little while to see if I get used to it, but this may result in me no longer being an active daily user.
Ryan Hoover: Last week we celebrated our 2 year anniversary. Today, we're making the biggest update to the site to date. We're calling it "Product Hunt 2.0" — a reimagined homepage of more than just the day's top upvoted tech products.

Now you'll find all the channels (tech, games, books, podcasts, and more coming soon) in one place, cool Collections you might want to follow, upcoming LIVE Chats, and popular products you may have missed. This direction gives us a lot more flexibility to personalize the homepage and surface activity from your friends.

Ultimately, we're building a place for you to discover and geek out about your next favorite thing.

Today's launch isn't surprising to many of you that helped build it. Thanks to all the beta testers that provided feedback and ideas. You rock.

Note that Product Hunt 2.0 is opt-in, meaning you can continue using the "old" homepage which is accessible at http://producthunt.com/tech.

P.S. remember when Product Hunt looked like this? 😉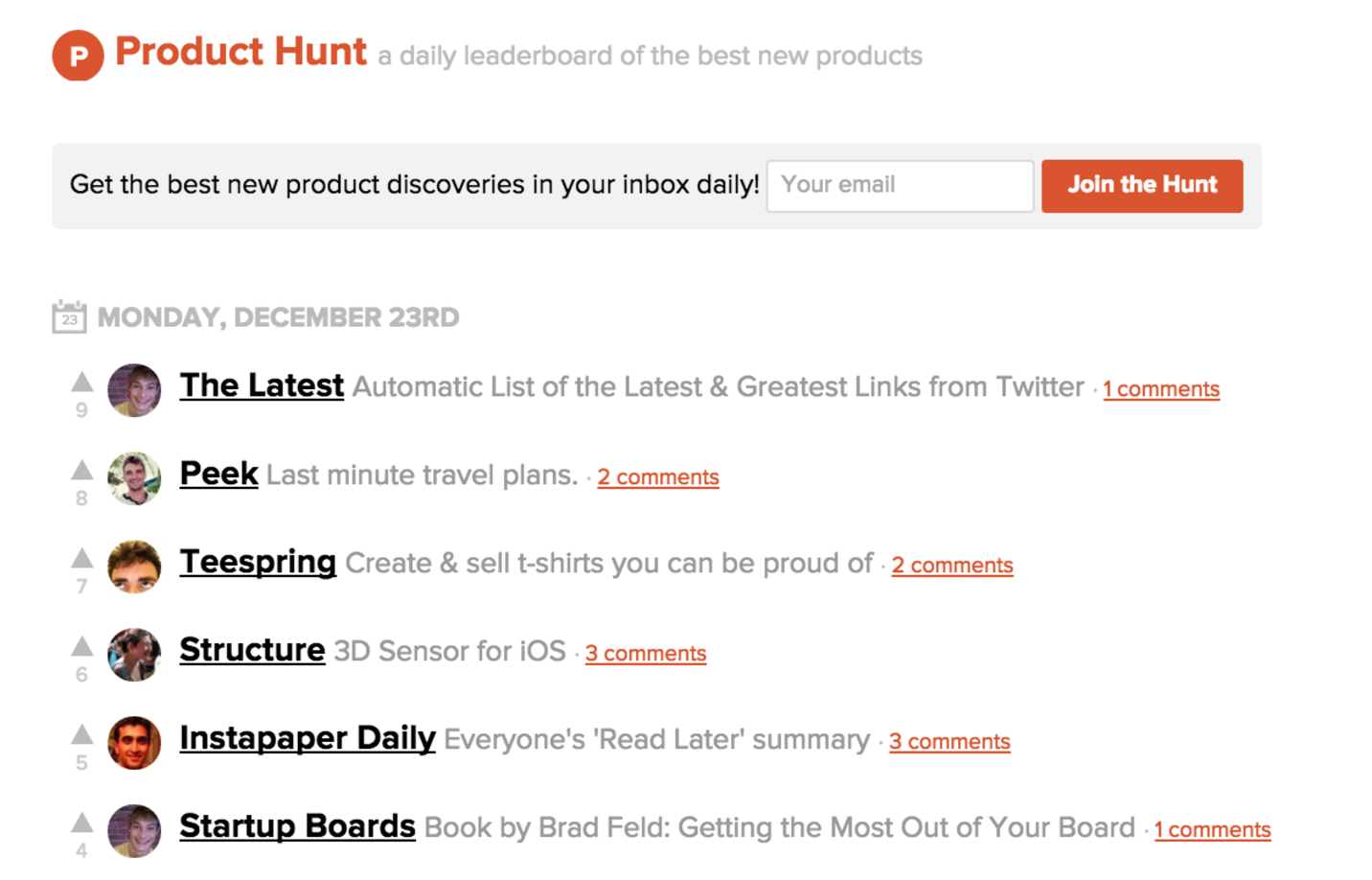 Zoli: @rrhoover When do you think the iOS app is going to be updated to reflect the new 2.0 style?
Misbah Ashraf: Awesome work with design @rrhoover and PH team. Congrats!
Nick Cicero: Love that app-store feel. Great improvements here nice work PH team!
Jack Smith: I'm really glad that this has been introduced as opt-in; same as enabling/disabling the product thumbnails. My personal preference is just the list of tech products without thumbnails.
Nick Coates: Congrats @rrhoover & team! Here's a cute cat emoji for being awesome: 🐱 (and proud to have been part of the beta).
Ken Rossi: Great work getting to 2 years and amazing community. I am hoping you aren't planning on changing any of the category pages to this horizontal format. I was also hoping you would have done the design of the screenshot you sent out last night. The one with all of the filters on the right. I tried to use search to see that and I was dissappointed. I think those filters should be on the right ALL the time on the category pages. Sometimes I don't know what I am searching for by keyword and that would allow me to access platform, tags, featured, post date. Allow me to sort and filter without keywords. Just my 2 cents, you can give me back a penny if you'd like.
Ross Currie: I think it looks great, @rrhoover. Definitely challenging to introduce such a big change like this - look at all the hate get everytime Facebook changes something. But, change is necessary for survival and growth, and I think sometimes you need to drag your users along kicking and screaming.

The new layout definitely changes the dynamic of being hunted, and creates all sorts of opportunities for customising the look and feel of the site based on my preferences. Can't wait to see how it pans out in the long term!
Mark Lombardi-Nelson: @rrhoover 1. Congratulations and Thank You. 2. Are you all working on updating the chrome extension soon?
Kilim Choi: It looks amazing. I love it! Really awesome job with the redesign. I have one feedback though. It would be great if I could rearrange the order of sections by dragging and dropping them.
Darian Moody: Many, many congrats on the 2 years @rrhoover!

I hope this comes across as constructive but If I'm honest, I'm not a fan of the new carousel based design on desktop. It's turned what was a simple scrollable easily-consumable feed into something that requires clumsily clicking a small arrow to see the rest of the days hunts for that category. The space required by each hunt is also larger now meaning less hunts get highlighted.

I understand the desire to want to surface content from the other categories, I'm just not certain this step back in terms of usability is worth it. I also have a worry that once a product is in the first pane of each carousel, it will not leave and other items in the latter panes will not replace them even if they would have usually.

Congrats again on the launch. I hope this is the kind of feedback you were after even if it's not particularly positive.
Kostas Xiradakis: The carousels are awesome 🎉
Sarp Erdag: i personally like the old one much more
gabe roeloffs: Secret's out. 😉 Great job with the redesign guys, I think this will really help discovery and I'm excited to use it on a daily basis. 🙌
Paulius Uza: Great update, but horizontal scrolling on the front page is a bad choice. I have a mouse wheel.
Howie Chang: Hmm. I am sorry @rrhoover but I like the old design better. It's cleaner in my opinion and provides the much needed focus. As for the carousel, I think it works great on mobile but doesn't seem like an efficient use of space on desktop. Let me know if this makes any sense?
Eric Posen: @rrhoover First of all, congrats. This looks like it was a massive undertaking.

Now to the feedback: I know it's what you don't want to hear, but this is a step backwards design and UX-wise. It's cluttered and clunky. The current vertical list design is much easier to follow. I would highly recommend reconsidering. I still love you!
Scott Ruona: @ProductHunt I love secrets.

Oh wait.....
Ed DeCaria: Love that you can swipe/flick left to continue browsing new tech products. When you put out the new design for initial feedback I thought we would have to click the little arrow to page to the next products in line, but this works great. And I already find myself checking out the top games and books, which I wasn't really doing before, so ... mission accomplished!
Jeff Needles: @fletchrichman I'd suggest sticking with producthunt.com/tech or going to your settings and unchecking the option to show the revamped homepage... No sense in losing the awesome content from your daily habit :D
Louis Galipeau: @rrhoover Cool. Looking forward to it!
Ryan Hoover: @muloka YES! This was on our plans but we're holding off for now. We might make some much bigger updates soon.
Ryan Hoover: @lombardinelson thanks! We're not planning to update the Chrome extension at the moment. It's a lower priority right now.
Ken Rossi: @kostgx Carousels typically do not work. If you are in the 2nd set you are typically never seen and clicked on. There will be a marked drop for those folks not in the top 5 for a category. Speaking as a big data guy who worked on 500mm+ interactions/page views for the US Open for 7 years.
Fletcher Richman: @jsneedles don't worry, I'm sticking to the original!
Ryan Hoover: @leowid way to turn lemons into lemonade, Leo. 🍋
Marek Hrabe: @rrhoover I do remember! You've come a long way to this, congrats :)
Ayrton De Craene: @ddesaid we're experimenting with other options 😊
Zaigham : @rrhoover It's been fun and a pleasure to watch the ride take place. :)
adam mashaal: @rrhoover congrats! Happy to have been part of the beta. Excited to see this live in the wild 😸
Abinash Mohanty: @rrhoover I love the 2.0 Product Hunt. I even liked how you integrated play/pause button where the "GET IT" button on the top under podcast section. That's superb experience.
Ryan Hoover: @choi_kl love that idea. We plan to personalize the homepage further, some of which might be through explicit actions like rearranging the order.
Ryan Hoover: @kenrossi we'll be making changes to each channel but we're currently planning to stick with the vertical feed. It works very well when browsing a specific list of things.

Re: the filters you mentioned, @k1ix is working on a MUCH improved search right now. Soon!
Jaime Macias: @rrhoover @alirtariq would you say that this change is aimed at making PH more relevant to me but de-emphasizing the impact it has on the brands launch itself? Seems like moving away from the leaderboard/bragging rights is a tradeoff. When are you doing a PH live so we can meta ask you about all of this?
Braden Hamm: @rrhoover I miss when it looked like this. Simpler times.
Ryan Hoover: @youngfonz thanks for the heads up! We're working on finding the right balance between high res and performant images.
v i ©: @rrhoover congrats 👍🏻 & well done to the team!
Eytan Buchman: @leowid @eytanbuchman keep us posted how that works - interesting approach!
Leo Widrich: @eytanbuchman @rrhoover - when I saw that announcement ahead of our calendar launch I got super excited! I thought PH probably sends twice the traffic today compared to normal (curious what it is in reality!) - so gladly taking any spot behind this amazing new homepage design!
Ryan Hoover: @eytanbuchman sorry but not sorry. 😊
Swaroop S: @rrhoover @swarooptvm understand . I was asking if it is available in new home page :)
Ryan Hoover: @swarooptvm the Tech upcoming feed is still available here and you'll see it accessible from the Tech channel.
Ryan Hoover: @alirtariq I appreciate the honesty, Ali. We're planning to make the homepage more personalized based on things you follow and activity from your friends. Ultimately, we want each "row" of content to be relevant and awesome.
Ryan Hoover: @edecaria 👍that was our goal!
Yvo Schaap: @rrhoover congrats !
Dipti Desai: @rrhoover Love this! Any plans to move away from reliance on the Twitter integration? My Twitter account has been hacked 7 times in the last six months, so I don't plan on keeping that account active much longer.
Daniel Stahl: @rrhoover Woohoo looking good. Functioning great!
Hans Petter Eide: @joostschuur https://www.producthunt.com/fron...
Milan vd Bovenkamp ♠: @rrhoover cool beans!
Ryan Hoover: @itsjonmarcus definitely not just me. 😊 Thanks!
Ryan Hoover: @eric3000 @juergenhoebarth without getting into specifics, one of the goals is to drive more attention to non-tech categories.

Interestingly, we see about the same rate of engagement in games, books, and podcasts but the previous homepage "buried" these channels within the navigation. We should see more upvotes, comments, and engagement across the entire site.
Ryan Hoover: @kostgx we actually added the carousels relatively last minute. I like it much better than the three column banners we had before.
Ryan Hoover: @syswarren thanks, Julie! 🐐
Anders Kravis: @rrhoover @kostgx Would be an awesome add-on if the category underline (blue under TECH) scrolled along to show your place in the carousel :)
Ryan Hoover: @eric3000 at some point we'll have one homepage for everyone but first we'd like to get more feedback and see how people use it.
Ryan Hoover: @zolihonig I was listening to the Re/code Decode podcast on a beta build of the new app yesterday. Soon, friend. 😊
Ross Rojek: @rrhoover hey congrats to you for really visioning this thing out and your team for building it. Its been fun watching you grow for the last 2 years.
Cem Kozinoglu: @rrhoover congrats! 💪👏😀
Ryan Hoover: @milann haha 💕 great write-up by @sarahbuhr in Product Hunt Redesigns The Homepage To Aid Discovery Beyond Tech
Eric Metelka: @juergenhoebarth @rrhoover can you share what your KPIs are for the new homepage?
Eric Metelka: @rrhoover why the opt in? Are you planning to retire tech as the default homepage at some point?
Ryan Hoover: @ourielohayon 😉👍
Kristofer™: @rrhoover Lookin good! I like that the other sections will get more front page love :)
Ouriel Ohayon: @rrhoover congrats. like i said a month ago: the app store for the web :)
Jaime Macias: @rrhoover congrats. Would be interested in hearing how you've balanced adding new channels with preserving the original intent?
The following information is related to the job
Skurt: Tap a button, get a car delivered to your door--- Software Engineer ---Los Angeles
InVision: Prototyping & collaboration for design teams--- Design Researcher ---New York City
Canary: Smart home security for everyone--- Product Designer ---New York City
Babbel: A more personalized social network--- Senior Product Manager ---Berlin
Honor: Home care built for our parents, and you--- Software Engineer ---San Francisco
Product Hunt: The place to discover your next favorite thing--- In-house Designer---San Francisco
Discover latest startups & promote your startup

A short newsletter featuring 5 cutting-edge technologies