Pixel by Google
介绍:Google's new phones, Pixel and Pixel XL
更新时间:2016-12-26 12:03:05
目标网站: 查看详情
Pierre-Marie Galite: As an Android developer, and a person in general, I'm excited 😬! Hardware is a big part of Apple, and they tell us every time. But now, Google can do it too. And there's still a 3.5 jack port! And "no camera bump" 🙊
Lior Romanowsky: Looks great, but it's all a matter of price and how the phone will "feel" a year from now in order to determine the success of this line
Nico: I was super excited about this iPhone killer but imo Google just shot themselves in the foot here. It seems to be coming to market 1 or 2 years late.

- Outdated design, look at the Note 7 (it's the bomb!)
- No waterproofing, no wireless charging...
- Best camera by 1pt over the most recent Android phones, this will not make any difference from a user perspective (still waiting for the 7 Plus review btw).
- Fast charging, nothing new here...
- Premium price especially when compared to the Nexus line-up.

If anything the assistant seems interesting but I personally still feel weird about talking to my phone and I'm surely not the only one.
I have no doubt it's a good phone but I don't see why people would switch from an iPhone 6/6+/7 or any other recent Android phone to this especially for that price.

PS: I'm using a Nexus 6P
keyul: Nexus 6P vs. Pixel

Nexus 6p
✔️ Google Assistant in Allo
✔️ Duo
✔️ Camera HDR+
✔️ Context Search on Tap
✔️ Nugget OS

Pixel
✔️ unlimited photo storage
✔️ video stabilization
✔️ Daydream Ready
Haoyang Feng: A very uninspired product to be honest.
Gabriel López: I like the new line of Apple products created by Google
Logan Lynn Roberts: Google is such a tease. I was a hardcore Google acolyte circa 2013 when Google integrations began & it seemed prophesied, almost inevitable, that the giant would literally upend & revolutionize the tech world.

I even committed to Google+ ok? I have 50K useless followers over there now because that's how much I believed that Google would be integrated into every aspect of our tech lives by now. I went all-in, but I saw first hand how they will come on strong with an idea or a product & then seemingly & casually lose interest in it & just stop working on the tech, branding or marketing & therefore leaving users in the cold.

Google has the brainpower, the funds & most importantly the LOYAL & reliant MARKET SHARE already built-in to blow everyone in the mobile tech industry out of the water. Think about the ROI on their digital advertising spend right??? But in the end they launch hard & sell it to ya & then they don't back it up with long term development or commitment to a product line with any design or branding continuity.

Chances are they will never make a Pixel 2 - where's the Nexus 2 phone after all? They are a massively profitable search engine & data collection monolith & ultimately that's all they will ever be.
Nicholas Sheriff: So weird to see Google turning more into a hardware powerhouse all the while Apple is getting envious of being more driven around software innovations...in this case a billion people are not going to want the pixel...outside of silicon valley, android still needs a lot of work and in many parts of the world the price point matters for choosing android lmao they are competing on the high end price point with Apple $650 for this LMAO well played Google it's more of a "positioning" perception play then this being a final like product offering from them.

This is the first time they are finally saying we have a plan to compete with you know who, the writing is on the wall.
Ryan Hoover: I'm a long-time iPhone user but the Pixel is tempting.

The Google Assistant integration is most interesting to me. Siri feels stagnant (although that might change as AirPods roll out and mature).
Ben Tossell: I don't reaaaaally want to say this but I feel less of an Apple fanboy now... I liked the look of this!

Just waiting for some to be out in the wild and hear the feedback.

Thoughts from others who also watched?

(people obviously noticed some of the sly Apple digs right? 'no camera bump')
Willie Morris: Was hoping for something that really blew Samsung and Apple out of the water, but this generation seems like a bit of catchup.
Cole Oliver: Not sold...would have expected edge to edge screen with a more modern design. I think this will have trouble competing with the Galaxy line or even old Nexus phones. Certainly won't steal many from Apple.
Niv Dror: This soothing animation will calm your fears of switching from iPhone to Android.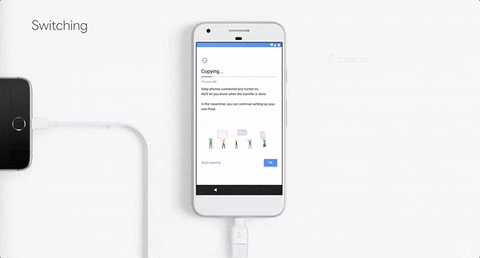 Andrei Oprisan: So, a larger, crappier iPhone 7 than the iPhone 7. I think I'll pass on this one. Really, it's an iPhone 6, with it's non-stereo sound and lack of water-proofing.
Dan DiGangi: Headphone jack confirmed.
Marcos Griselli: Bold move to claim 'the best' smartphone camera ever when DxOMark Mobile hasn't (or is hiding) iPhone 7 Plus camera review. Any comments on SnapDragon 821 speed? 33% slower than A10 on single core :/.
Andreas Mitschke: Looks interesting, though I still do not get the bottom bezel. Is there a point of having such a huge bezel without a physical button in there?

The bezel makes sense in the iPhone as there is a button, but without it, why no almost edge-to-edge screen?

I am a Google and Nexus fanboy since the 7, but I just don't understand the design decision regarding the bottom end.
Navid Nathoo: Everyone is acting like this is a brand new innovation. Let's break it down:

- It looks like an iPhone 6
- There's no camera bump...Why is that even a selling point? That's when you know a startups is going to enter this market, when we start differentiating mobile phones based on a camera bump...jeez
- Every Android phone will have the same OS, so it's not a differentiation.
- Finger print scan is at the back, probably for patent reasons, which makes it less functional.
- Charges in 15min (yea, that's dope)

Why are people so excited about this phone? There's nothing different about it.
Bojan Savikj: Phone doesn't look good. The design is dated. Why is there so much space bellow and above, and even by the sides, of the display? And why is it so thick? Just compare this one to the Note 7 (yeah I know it explodes) or even the iPhone 7. They look superior. Obviously i'm not talking about specs and software. I'm sure this will have the best Android.. but design wise, this is poor and disappointing
Ian Rumac: WOOOOOO!
Been waiting for it for quite a while, seen all the leaks, but still excited.
Not a fan of the huge chin and forehead, but otherwise it's a top tier phone. Getting an XL for sure, wish they came in 5.7" size tho :(
Philipp Meder: This phone is so amazing! I can't believe I just but a Galaxy S7 Edge, thinking there can't be a better phone in the near future.
But Google really just topped everything, unbelievable!
Melissa Monte: This does look pretty awesome... love the "3.5mm headphone jack satisfyingly not new" haha
Mark Adams: I was pretty disappointed by the launch as a Nexus 6P user, a lot of the stuff they're touting is already available on Nexuses and other Android phones, so I'm really unclear on why it warrants a $649 price tag. There's no wow factor, it's basically a Nexus 6P. There's no waterproofing or wireless charging like on an S7, no modularity like with the G5 or Moto Z or dual camera system like the iPhone 7 Plus.

The one differentiating feature is live customer support on your phone, which would make this a good phone for my parents.
Juan S. Camargo V.: As a long time Android user, I am extremely disappointed.
There's nothing compelling about this phone.

Lacks stereo and waterproofing, and too many things are iPhone inspired, to its detriment. It's as if Google made the iPhone 6. That price tag is simply not warranted in my opinion.
Brad Brooks: Um, no.
Reony T: @writerpollock @bentossell yup. The Google Camera app, to me personally, is way more fun to use and I feel like I can do more with it. The special modes are fantastic, even though most of it is emulated through software. It's done really well. The iPhone does render HDR, Lens Blur, etc. faster, but that doesn't bother me. The real-time lens blur on the iPhone is pretty cool though, but I like being able to change my focus point and blur strength after the photo is taken (like on the Google Camera app). Honestly, I usually end up buying a "premium" camera app anyways, but this time around, I haven't! 😁
Tristan Pollock: @megaroeny @bentossell even compared to the new iPhone 7 Plus?
Jared Janes: @marcosgriselli they actually did review the 7 Plus...
Andreas Mitschke: @tomjohndesign I know this usability assumption, has been said with the Nexus 7 as well, but also has been debunked for quite some time now. Only a minor audience is addressed by an additional, otherwise useless, space for their fingers.

Usage patterns and expectations have changed over the past years, especially regarding the Pixel is targeted on a very specific tech-savvy early-adopter audience. And you should assume that thumb- and palm-detection is advanced enough to not rely on wasting screen estate.
Ben Tossell: @erictwillis haha I had my eye on about 5 different things! The google store was not one of them!
Logan Lynn Roberts: @bentossell Google is such a tease. I was a hardcore Google acolyte circa 2013 when Google integrations began & it seemed prophesied, almost inevitable, that the giant would literally upend & revolutionize the tech world. They have the brain power, the funds & most importantly the LOYAL & reliant MARKET SHARE already built-in to blow everyone away. Think about the ROI on their digital advertising spend right??? But in the end they come on strong & then don't back it up with long term development & commitment to a product like with any design or branding continuity. Chances are they will never make a Pixel 2 - where's the Nexus 2 phone after all? They are a massively profitable search engine & data collection monolith & ultimately that's all they will ever be.
Crystal Chen: @bentossell I noticed the comment on having no numbers. But I still love my iPhone SE without the look and feel of Samsung and HTC.
Reony T: @lukedeannif @nivo0o0 most of my family in Europe doesn't like iPhones after trying both. All of them still are using Android to this day. I've also been on both and overall more happy with Android. I only buy Nexus devices though. Makes a big difference.
Jameson Tyler: @stephenvoisey texts coming in on all devices is nice, but I have that with hangouts now. Phone calls have failed to work regularly for me since the features introduction.
Dillon Nichols: @nivo0o0 I'd be interesting in switching to Android for this phone. But iMessage is the biggest thing holding me back right now.
Andreas Duess: @nivo0o0 @lukedeannif I've got both the latest iPhone and the latest Nexus on my desk right now and use them both every day. The iPhone outperforms the Nexus in speed, camera quality, UX and services integration. I used to love the Nexus experience, but iOS10 is simply better than Android.
Melanie Amini: @bentossell I feel the exact same way. I am considering it when i need a new phone. I love my iphone but the thought of having to get a new case to enable me to have a headphone jack is annoying me let alone the fact that i wont have a normal headphone jack and will need to buy all these accessories to actually listen to music hence why I like the headphone jack comment in the video too! lol
Mariusz Ciesla: @bentossell I'm afraid the marketing is there, but the product won't, like with all the Google hardware products before.
Niv Dror: @lukedeannif iPhone is not that good dude.. I have a Galaxy 7 Edge and iPhone 6s and would happily use the Galaxy as my primary phone, and would consider doing it now with the Pixel phone
Justin Tieu: @rrhoover You can always choose to get the Pixel and still use your iPhone!
Kabir Shah: @surjithctly @bentossell It's a GIF
Jason Shultz: @professorz @bentossell it goes both ways. Apple can't have a press conference without making a reference (however subtle) to Google. It's just how the game is played.
Luke: @nivo0o0 Perfect I'll switch to Google's phone from my iPhone now! -No one ever in the history of technology
Austin: @eddietomalin @bentossell IMO, having been back and forth between Android and iOS a few times (for testing and dev purposes), Android always feels like more of an enjoyable experience to me. Pure Android is a thing of beauty.
Andreas Duess: @bentossell I use both iOS and Android every day. In my opinion, the user experience of iOS, and the late iPhone especially blow Android out of the water. Until about two years back, my Android phone was my primary phone, now the iPhone delivers a far better experience. iOS 10 especially has leapfrogged Android most everywhere.
Surjith SM: @rrhoover Can you please stop autoplaying videos. Really irritating!
Surjith SM: @bentossell Can you please stop autoplaying videos. Really irritating!
nilsej: @rrhoover you should make product hunt app for android first..that's the reason I switch back to iPhone 7 from the mini bomb(Note7) :)
Hans Gerwitz: @punkscience you know Touch ID works with thumbs, eh? Since the 6S gen it's nearly unnoticeable that you're authenticating, which IMnhO puts the back sensor at a UX disadvantage unless there's another good reason to interact with that sensor. (Also, rings are rising in popularity: they're already overtaken China. It's laughable to watch someone with a ring holder try to use a back sensor.)
Deron Sizemore: @eddietomalin @bentossell Would take you like two days to get comfortable with the OS. I actually enjoy it more than iOS and doubt I'll switch back unless Google just does something stupid.
Anton Sten: @bentossell haha, I love this. Two weeks ago everyone was hating Apple because they put out a phone with an "outdated" design. Now Google copies it and everyone thinks it "looks amazing".
Eric Willis: @bentossell I want this phone. And I was refreshing the google store and not paying attention to the blog. Damn you @bentossell
Darryl Wright: @navidnathoo The fingerprint sensor on the back is genius. The traditional positioning of them on the home button on other phone has always struck me as an odd choice given how a phone is actually held.
Sean Green: @megaroeny @bentossell Lens Blur is a great feature. Def love the Google Camera app for sure!
Cameron Lengerich: @thehashrocket @professorz @bentossell They didn't make an references last keynote
Nicolas Le Roux: @sammcmorris Android is pretty simple to get used to ;)
Lior Romanowsky: @zainmanji definitely. The software was always a key for apple's success with the Iphone as a whole experience.
Daniel Citrin: @amckinnis You can get it unlocked from the Google store. They offer financing, as well as the Google Fi sim.
Zain Manji: @liorowsky Agreed, I also believe the success of the phone is tightly coupled to the software running on it. It'd be interesting to see how Apple and Google will evolve and/or differentiate from each other.
Ben Tossell: @nivo0o0 all being said... I just don't think I'll be going to Android. I'd feel dirty haha
aj: @dandigangi Someone's clearly thinking different.
Utkarsh Sinha: @nivo0o0 @bentossell Exactly! iPhone is exactly what Google is targeting. Their website a whole 'switching is easy' section. Adding a quick transfer cable is a nice, clever touch.
Niv Dror: @bentossell Google is making a 🎧 really 🎧 strong 🎧 case for switching to Android.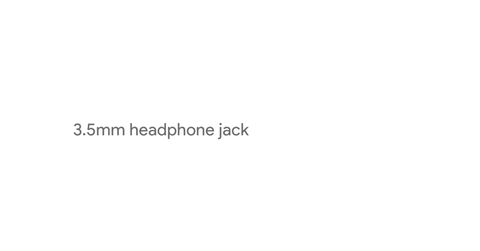 Ben Belser: Redacted!
Alex Abian: That GIF is priceless! Indeed considering a move, for the first time ever @bentossell
Rakesh Mohan: @dandigangi ha ha
Alexander Kehaya: @bentossell I felt the same way. The video makes this phone look awesome.
Sarthak Grover: @keyul Agreed....that has me thinking too whether or not to switch from Nexus 6P, considering I have had it for just 11 months so far. Not very different with a lot more premium.
Itzel Yrev: @eddietomalin @bentossell I feel you
Alan Cassinelli: @dandigangi Courageous :)
Willie Morris: @rrhoover I felt like Google assistant was the only compelling feature and still think Samsung's latest phones from the Edge 7 forward seem superior. *I've always been an iPhone user, but switched to the Note recently*
Stephen D. Vujevich: @rrhoover This is the Android phone I was waiting for. I think I'm finally going to make the switch.
sᴀᴍ ᴍᴄᴍᴏʀʀɪs: I preordered. I've never had an android phone before. Honestly VR was the big selling point for me, it just seems fun. Cardboard is a massive pain to actually use, so I like the idea of a remote to guide everything in the interface without taking the headset off.
Darren Tonkin: @rrhoover a friend of mine was at the PC and said that Google Assistant was not as responsive as siri is. The on stage was great however they are designed to be. Will be very interesting to see how it is when we get to test it.
Eddie Tomalin: @bentossell I mean the spec is bonkers, but learning a new OS is my issue
Matt Zuvella: @bentossell Nearly every Google commercial makes digs at Apple...they can't just be original?
Tom Johnson: @keyul The 6p won't have the assistant baked into the OS, if I understood what they were saying. Allo and Duo and search on tap are iterations on the way to the full on assistant.

Also, my 6p's camera is molasses. The speed aspect alone is a selling point for me.
Tom Johnson: @andmitsch If I had to guess, I'd say that it has something to do with having negative space to hold the phone while watching videos or taking photos. Gotta put those meaty paws somewhere...
Cole Oliver: @cole_oliver beautiful video, though.
Jason Pittam: @rrhoover I'm assuming you have used Allo. How do you like the Google Assistant experience so far?
Matt Gardner: @ryanmarr Except you can't order a case for it. Conspiracy theories for the $129 protection plan, GO :p
Andreas Mitschke: @lucascerdan Oh... haha, thanks :) . Of course, there was that thing plus import taxes.
Lucas CERDAN: @andmitsch Because all price in the U.S. are displayed without taxes. (which varies between states)
Oğulcan Girginç: @_jasonwyatt "OK, NSA": https://www.eff.org/deeplinks/20...
Sarthak Grover: @bentossell I noticed the camera bump comment too. I think they forgot about Nexus 5X and 6P. I am still catching up but it looks incredible. I am sold on the initial looks and focus on photography.
Ryan Marr: It seems google is starting to figure out that when you announce something it's good to make it available now (ish)
Reony T: @bentossell I've always liked the Google Camera app better than iOS. We've had Lens Blur for quite some time too, and the photo sphere is so fun when traveling. I love my Nexus 6P and I came from iPhone 6S+ and iPhone 5S
Eric Willis: @bentossell I was checking some twitter accounts and some android blogs..even refreshing Verizon. Committed the rookie mistake and didn't check the official blog. Saw it on "newest" and was like.. damn it I bet that's Ben!
Jonas Petermann: @bentossell also they made a headphone jack comment :)
Tyler Hayes: @rrhoover At the very least it's just exciting to see all the big cos taking on the idea of assistants from different angles. Audio vs. texting vs. anticipatory vs. hybrid.

I imagine they'll all converge a bit as they each get better at their respective starting grounds, but this is just early innings.
The following information is related to the job
Canary: Smart home security for everyone--- Product Designer ---New York City
InVision: Prototyping & collaboration for design teams--- Design Researcher ---New York City
Quora: Share and grow the world's knowledge--- Product Designer ---Mountain View, CA
Honor: Home care built for our parents, and you--- Software Engineer ---San Francisco
Anchor: Record bite-sized podcasts that anyone can join ⚓--- Lead Front End Engineer ---New York City
Gimlet Media : A network of high-quality, narrative podcasts--- Editorial, Production & Engineering ---Brooklyn, NY
Apple's new iPhone 7 and 7+

Google's new phones, Pixel and Pixel XL