Website Grader
介绍:Grade your website's strengths and weaknesses in seconds.
更新时间:2016-12-24 09:37:56
目标网站: 查看详情
Mark Osborne: Very useful thank you! I usually use Google PageSpeed Insights but this is much nicer and touches on SEO basics too. Regarding sitemap - is it trying to detect an XML file or a sitemap page for users?
Hasnain Afzal: This is so useful! Good work. Love the UI!
Divyanshu Singh: This is a awesome product. Tested various websites and satisfy with the result.
John Pettus: Beautiful design, and I like that it leads to action. I'm not sure it's all accurate though. Some of it is, for sure. But the site gives us our best score for Mobile... when we haven't done our responsiveness fixes and our site is completely un-usable on mobile (for another couple weeks). I love this idea, and will be sending it to some friends. But feel free to look at our case as a way to tighten up the standards for the responsiveness / mobile-ready category. https://website.grader.com/resul.... Entrepreneurs and builders need accurate, credible feedback. When we fall short, I want to know! Keep up the good work and ping me if you want to follow up.
Ali R. Tariq: I've used variations of these kinds of tools before and their results left me feeling unfulfilled. This was different, though. Took me through the steps clearly and gave actionable results that I suspected my site was suffering from but never quantified before. Pretty sure I'll be using this again! Good job.
Clark Wimberly: Looking really nice! One bit o' feedback: I tried testing on a site that's just sitting on an IP for now, and it wouldn't let me (said invalid URL). Would be nice to figure out a way to use this on stuff pre-launch.
Akhil Chandra: I used this yesterday. Pretty useful tool to check the health of your website. Good job Dharmesh! Especially helpful for a start up like ours which doesn't have a full time tech team to make constant website changes. I got pretty specific action plan on the things I need to fix to improve my site performance.
Dharmesh Shah: How strong is your website? Use Website Grader to diagnose your website's performance on SEO, mobile, security, and more in seconds.

Our goal with this free tool is to help anyone with a website -- developer, marketer, entrepreneur -- quickly grade their website's components and find out what they need to improve for maximum effectiveness . We hope that Website Grader helps save time diagnosing, so you can focus on what needs to be done to make your website even better.

Try it for your own website (or a competitors).

FUN FACT: I personally developed the original version of Website Grader over 8 years ago, and it's been through a big overhaul recently. I wrote all the funny (I hope) quips you see while you're waiting for the report to generate.

Would love any feedback or questions. We're cranking away trying to make the tool better.

Thanks for checking it out.
Sam Schooler: I love this! The whole website is very slick. Even the loading screen keeps you on the site with the little piece of text. Pretty proud of my score :P ![](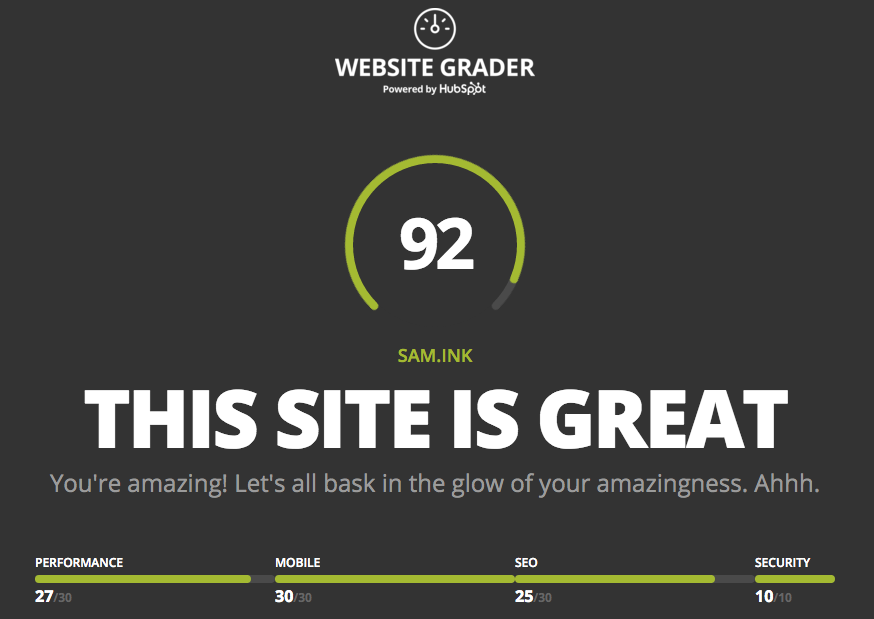 )
Mike Taylor: @dharmesh Nice! What tool do you use for the screen captures that are shown on the results page?
Nikolas Skil: LOL! Google grade to SEO is 20/30..
Mohnish Bahal: @dharmesh Fantastic design, loved the aesthetics. I also believe this is a great way to generate leads. Having said that I have been trying to grade our website vistarooms.com and it's showing an error message.
Mark Schenkel: Nice tool. Question: will you ultimately make this into a paid service?
Abhinaw Kumar: www.doctorscircle.in scored 84. I liked the insight on what we lack in SEO. Not sure, if report also indicates any broken hyperlink.
Nars Krishnamachari: Love it! The grade and what to do next does it for me.
Michael Moore: This tool funneled me into Hubspot almost 5 years ago, how's that for lead gen @dharmesh. This updated website grader alongside the Hubspot competitors tool—which uses a huge amount of internet data public (alexa, moz etc) and private really do a fantastic job of tracking your companies rankings along side competitors.
Craig Stanford: @dharmesh Well done! I love how you are pulling folks into the marketing funnel from a really simple landing page, and then providing immediate gratification and value at the same time.
Deandre Durr☀️: The design is really beautiful.

It reminds me a lot of @hnshah website grader Quicksprout
Anton Dvornikov: Hi, I tryed to use it, but got this: Well, that didn't go according to plan.
Hiten Shah: It's nice to see this change throughout the years. This is one of the first examples I can remember from 8 years ago of a SaaS company doing lead generation using a separate free tool. Nice work with the redesign @dharmesh and team! Feels smooth and simple, pretty much exactly what I would imagine most people want from a tool like this.
Ryan Hoover: This is fantastic, @dharmesh. Looks like we have some improvements to make at Product Hunt, fortunately some of which are already underway. 😁
Dorell James Paza Galang: It seems we also experience the error. Sites https://www.lanarkshirechamber.c... and https://www.webriq.com. Any ideas? :)
Nathaniel Blackburn: This is a really helpful tool, thanks for making it!
Adedayo Charis: Well done guys. l will definitely do this for our new website
Jake Blakeley: I LOVE😍 the fact that this tool has actionable insights with things that I can improve on my site – something that's either missing or filled with jargon on other tools that I've used.
Ben Tossell: @dharmesh keep getting an error when testing sites.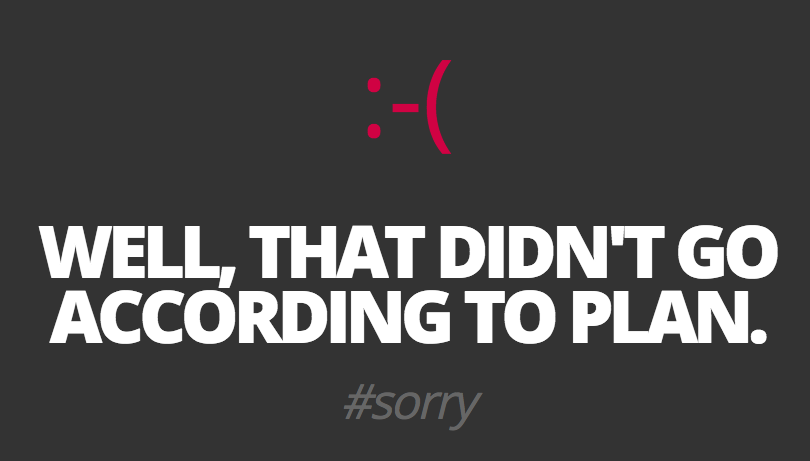 Daria Shualy: @dharmesh Thanks for yet another great tool. Beautiful UI. Very helpful in communicating needed fixes to customers.

I have one question: For a specific site I checked I got 1.3 seconds page speed, while Alexa gave me 2.3 seconds. Any thoughts on why this could be?
Ivana Galic: @dharmesh Thanks for the awesome product! I'm happy with the result! :)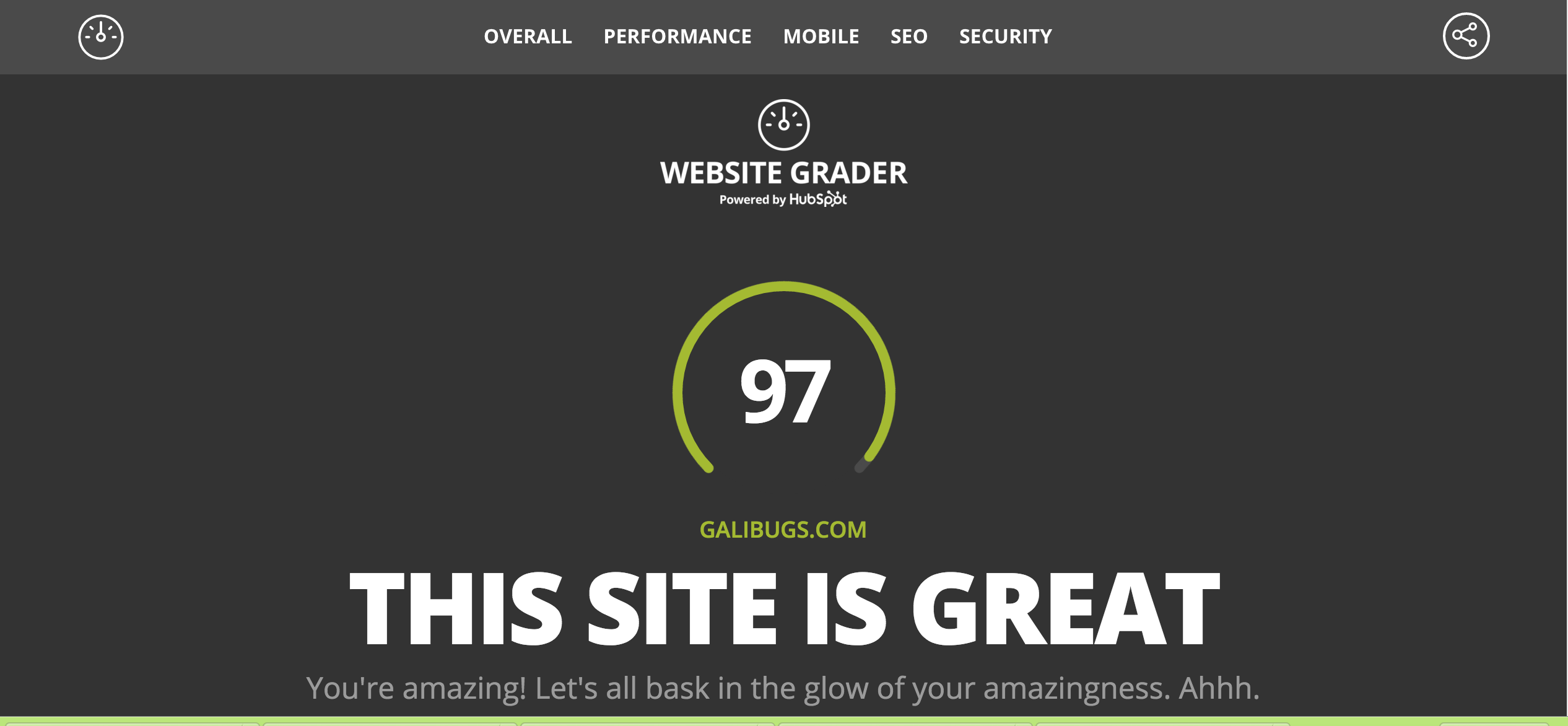 Rob Campion: @iamtobu Thanks for the feedback tobu. Perhaps that's correct, but it would be hard for us to guess that the sitemap isn't required and so we leave the check in at all times.
Rob Campion: @mposborne Hi Mark. It looks for a sitemap.xml on the root domain and also checks the site's robots.txt for sitemap entries (the latter was only added today).
Rob Campion: @markschenkel1 Hi Mark, thanks for the feedback. Glad to see Website Grader is helping. Right now, we don't dive into much detail on what files can be moved. Really, we want to make website builders/owners aware that having JS/CSS here can slow page load.
Rob Campion: @laura_ward Hi Laura. Thanks for the feedback. Unfortunately, you can't check an behind an authenticated screen for security reasons (unless that page/site was made public).
Rob Campion: @emilstahl potentially. We have discussed but I can't say for definite. Are you seeing skewed results?
Emil Stahl: @robert_campion Do you plan to get servers in other continents?
Rob Campion: @emilstahl Hey Emil. Yep.
Emil Stahl: @clarklab use a subdomain / temporary hostname?
Pierre Godret: Hi @robert_campion, I am having the same issue with www.iko-system.com...
Rob Campion: @nicoballe Hi Nicolas. Thanks for the feedback! Correct, we won't always get this right because without us physically looking at the site, it's very hard to tell if it's responsive or not. We essentially guesstimate by checking if a meta viewport exists and by looking at styles on the page (plus one or two other checks).
Dharmesh Shah: @rrhoover Thanks. The tool is still a work in progress. We'll be working through all the great feedback coming in through the awesome Product Hunt community.
Rob Campion: @playgraph Hey David. Appreciate the comment. It's a good point. We wanted to stick to the fullscreen (100vh) layout to give each section lots of space. As you alluded to, discoverability is a concern if people don't scroll to the next page etc. Hopefully, in most cases, users eventually move to other sections by clicking the top nav or the individual result sections (e.g. if you click the Mobile score header, it should take you to that page). Something to take on board for future iterations. Thanks!
Rob Campion: @rdiazjimenez Hey. Thanks for the feedback! There's no cache for this very reason. We want people to update their site and see better grades instantaneously.
Dharmesh Shah: @arlogilbert I know I'm biased, but since *I* got the credit, I'm pretty pleased. :) Since it's my first real hunt, I'm grateful for some of the mojo.

Your point on the render blocking detection is well taken. Will discuss with the team.
Siddharth Gupta: @dharmesh wow this looks fantastic now. well done
Louis Galipeau: @julianlozanoaz At the very least SSL is good for SEO. Cloudflare or Let's Encrypt or a cheap ssl cert would do the trick.
Arlo Gilbert: @dharmesh great tool. Oddly I found it yesterday but damn I forgot to hunt it so somebody else gets the credit! :)

97 was my score and as a perfectionist I'm still a little irked. https://www.televero.com

One piece of feedback is the render blocking, it's a bit odd to dock points for *any* render blocking, especially when sites use foundation or bootstrap and that CSS is in fact necessary for the page to even function.
Julian Lozano: @muloka @mikemaccana I was going to ask if it's that necessary. I only have my portfolio website, www.julianlozano.com. Though I might be wrong haha.
Julian Miller: @robert_campion @bentossell I'm having the same issue on learnmetrics.com
Jeff Needles: @dharmesh This is awesome. Pretty proud of the score I got (especially since -10 is just for not being HTTPS)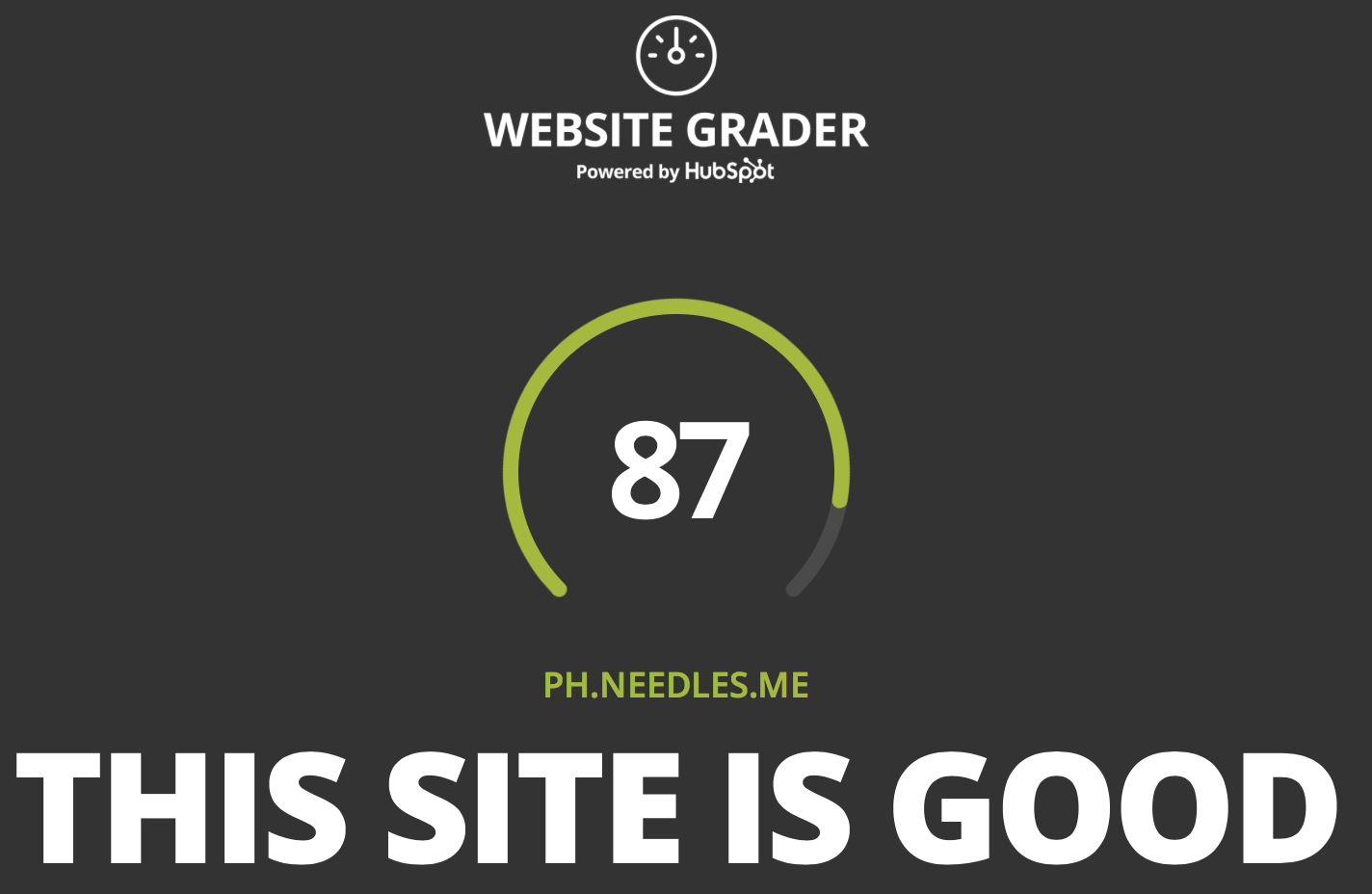 Damir Dulic: @clarklab I agree, not a bad idea!
Louis Galipeau: @julianlozanoaz Check out CertSimple by @mikemaccana or get a free one from Lets Encrypt or Cloudflare?
Dharmesh Shah: @hnshah Thanks, Hiten. Hard to believe it's been that long Appreciate all your support of me -- and HubSpot, over the years.
Dharmesh Shah: @sanyalpritish Thanks, and welcome to the community. I think you'll like it here.
Rob Campion: @ramtorn Hi Dan. Thanks for the feedback. Nope, we don't take into account where the request is coming from. There will sometimes be differences in the Performance tab score due to network latency, but it shouldn't vary drastically. For example, if a site takes 100ms to load the first time we grade, it shouldn't take 10 seconds to load the next time. Hope that helps answer your question?
Damir Dulic: @jittarao @ddulic92 Same goes for sitemaps, doesn't show I have mine when I do :/
Raghavender Rao J: @ddulic92 I agree. The tool doesn't seem to identify meta tags, headings and page titles. Also, the website I just tested was totally mobile responsive (bootstrap based) and yet the tool says it ain't mobile responsive. I guess this is in beta.
Rob Campion: @bentossell We're looking into the Product Hunt grade also. Thanks for highlighting!
Khripunov Denis: @robert_campion @dxripunov You have nice tools, good luck!!
Rob Campion: @g_manasse thanks for the feedback Gabriele. Unfortunately the grade won't be 100% accurate every time. The responsive grade is a good example of this. Your site may be responsive but if it doesn't contain a meta viewport tag in the document head we'll class it as unresponsive.
Ben Tossell: @robert_campion it was Product Hunt.
Rob Campion: @bentossell thanks for the feedback Ben. What's your site and we'll take a look? Some sites are difficult to load and test programmatically, hence we error out to the screen above. This may not be a reflection of the sites themselves.
Rob Campion: @dxripunov Hey! Thanks for the feedback. Looks like you've discovered a bug on our side that we've fixed just now (you should never see zeros everywhere). However, it seems we're having difficultly grading 4wknd.az also so let us deep dive into that right away.
Dharmesh Shah: @itsnblackburn Ah yes, adding analytics is an important one. Challenge there is that there are *so many* analytics tools to try and detect. But at a minimum, if we don't detect one of the major ones, we can provide a warning. And good point on the cookie laws -- especially when we detect that a given site is hosted in a specific geography.
Nathaniel Blackburn: @dharmesh @itsnblackburn Just more metrics really, you have covered most bases quite well but recommendations like adding analytics and a compliance with cookie laws etc might be nice.
Dharmesh Shah: @itsnblackburn You're welcome. Thanks for checking it out. Anything we could do to make it more useful to you?
Khripunov Denis: @dharmesh @dxripunov http://4wknd.az
Dharmesh Shah: @dxripunov Could you share which website you've run through the tool? We'll look into it and see why it might not be giving you any credit. Note: This is not a perfect science. We check several factors to make an educated guess, but we don't always get it right.
The following information is related to the job
Lyft: A ride whenever you need one--- Software Engineer ---San Francisco & Seattle
Quora: Share and grow the world's knowledge--- Product Designer ---Mountain View, CA
Product Hunt: The place to discover your next favorite thing--- In-house Designer---San Francisco
eero: Blanket your home in fast, reliable WiFi--- Product Manager - User Engagement---San Francisco
MailTime: Go through your email as fast and easy as text-messaging--- Software Engineer ---San Francisco
Canary: Smart home security for everyone--- Product Designer ---New York City
Find out in 7 seconds and where you can improve today

Compare how fast your website loads vs your competitors

Epic website performance battles between two urls

Free tool to grade your branding in seconds

Clean and protect your websites like a security expert

We check if your website is up to par.

See how fast your site loads compared to competitors

How much faster can your website be?